President James F. Birge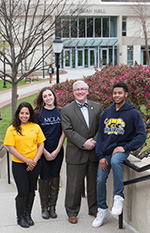 Dr. James F. "Jaimie" Birge has worked in higher education for more than 30 years. He spent much of his early career in the student affairs area followed by work with faculty and staff to integrate community-based learning into academic course objectives.
Birge has worked in public and private higher education as well as with an association of academic presidents. Most recently, his work has been in private higher education.
After serving as the executive vice president and interim president at Wheeling Jesuit University in West Virginia, Birge was recruited to become the fourth president at Franklin Pierce University in New Hampshire in 2009. While at Franklin Pierce, Birge and his leadership team achieved much success, including securing the largest single donor gift in University history, the largest planned gift in history, four of the six largest annual fund contributions in history, and completing the comprehensive capital campaign above goal.
They also expanded undergraduate academic majors to include health science, business + (three-year degree), environmental studies, public health (three-year degree), and social media and emergent technologies, and established new graduate degrees including the Masters of Physician Assistant Studies, MBA in Sustainability, as well as an MBA in Health Administration and Nursing.
His team expanded athletic programs to include: sprint football; track and cross country; women's ice hockey; women's bowling; and women's golf. He increased admissions applications by 40 percent, incoming class size by 15 percent, and student retention by 8 percentage points.
Birge also oversaw construction of the Pappas Center for Health Science and Athletic Training, the Bisaccia Memorial Softball Complex, and the Kirsh Baseball Clubhouse; and implemented a faculty governance model, as well as faculty participation on the Academic Affairs Committee of the Board of Trustees.
Birge holds a Ph.D. in leadership studies from Gonzaga University in Spokane, Wash., an M.Ed. in guidance and counseling from Plymouth State University in New Hampshire, and a B.S. in elementary education from Westfield State University in Massachusetts.