Responsible Recycling
12/21/2011
The MCLA Sustainability Committee - otherwise known as the "Green Team" - recently joined the College's facilities and computer support services departments to organize an electronics recycling pick-up for the campus community.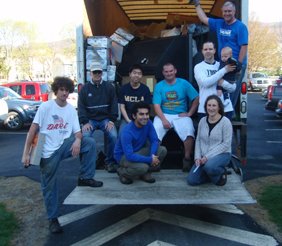 A campus-wide program that aims to increase recycling, reduce energy use and invest in our campus and community's sustainability, the Green Team gathered old MCLA computers, printers, monitors and other electronic products that had fallen out of use because as they've become outdated.
Students, faculty and staff also brought in items from their homes. It was important to select the right company to recycle the electronics, according to Caroline Scully, coordinator of MCLA's Berkshire Environmental Resource Center and the chair of the Green Team.
It became illegal in Massachusetts for electronic trash to enter the regular waste stream in 2000. Previously, local electronic trash was incinerated in Pittsfield.  But not all recycling companies dispose of those items responsibly.
"Some send their electronic trash overseas where it's ended up in underdeveloped countries in toxic dumps, causing health and environmental concerns. The disposal of computers, printers, monitors, and other electronics is a campus sustainability issue because these items are frequently disposed of irresponsibly overseas," Scully said.
The waste was picked up last Friday by Good Point Recycling of Middlebury, Vt. The company has a national reputation for socially and environmentally responsible electronic waste recycling with an expertise in "fair trade" in the electronics market, Scully said.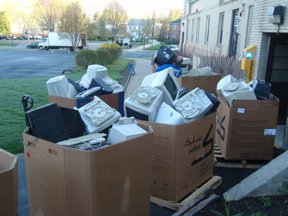 "This company tracks where the waste goes," she added. "The toxic material in the collected electronics will be removed or reused safely."
Made up of faculty, staff and students, the Green Team meets every two weeks. Its members are getting ready to help Scully prepare to file the campus's progress report with the President's Climate Commitment, which is due on Jan. 15.
"We've been talking about how to set a date when MCLA can aim toward becoming a carbon neutral campus," Scully said.
Since 2007, MCLA has reduced its carbon point by about 10 percent.
"We're getting there. We're setting new goals and will probably set a date - probably mid-century - for carbon neutrality."
The Green Team is often represented by the Enviro-Nuts, the student action group on campus, which organizes a number of educational events on campus. Most recently, the groups held a panel discussion in conjunction with MCLA Presents! presentation of "Water is Rising."
They discussed sustainability on both local and global levels with the "Water is Rising" performers, who live in the South Pacific islands of Kiribati, Tokelau and Tuvalu. Only two to three meters above sea level, the islands are threatened by rising water due to global warming.
For more information about the Green Team, go to www.mcla.edu/About_MCLA/Admin/greencampus/.