Massachusetts College of Liberal Arts
 Proud Host of
Western Massachusetts High School Science & Engineering Fair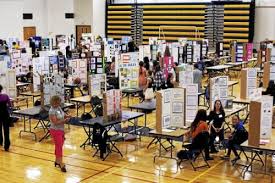 March 8, 2019
Amsler Campus Center at MCLA
 Serving Berkshire, Franklin, Hampden, & Hampshire Counties
---
Forms:
---
We are letting YOU create the look of the 2019 fair! Interested students can create a cover for the event program and submit it here! 
The 2019 Western Massachusetts Region 1 High School Science & Engineering Fair
Schedule
All Presenters:
8:30am                          Registration
8:30am-9:30am          Exhibitor Set-up/Safety Check
9:30am-12:30pm         Judging
12:30-1:30pm             Lunch-provided by MCLA
1:30-2:15pm               Open to the Community
2:15pm                       Keynote Speaker & Awards Ceremony in Amsler  Gymnasium
Important Dates
December 2, 2018: Online Online SRC application deadline. As submitted they will be reviewed on a rolling basis for  approval. 
December 10, 2018: Copies of signed paperwork due to Regional SRC (if project falls under a Restricted Area of Research) Please see the SRC Instruction Guide on the website.
February 8, 2019: Western Mass Registration forms for competing projects (15 projects per school)
March 8, 2019: Western Mass High School Fair at MCLA
May 3 & 4, 2019: Mass State Fair at MIT
Intel SEF 2019: Phoenix, Arizona, May 12-17, 2019
Students planning to begin their research this summer may use last year's forms and apply using SEFOS when ready.
Projects that fall under Restricted Areas of Research MUST be reviewed by Regional Scientific Committee before research begins. Restricted Areas of Research are projects that include:
Potentially Hazardous Biological Agents (microorganisms, rDNA, human and vertebrate animal tissue, blood, body fluids, etc.);

Vertebrate Animals;

Human Subjects;

Hazardous Chemicals, Activities, or Devices;

Controlled Substances.