SPECTRUM: exploring gender identification
SEPTEMBER 27 - NOVEMBER 18
OPENING RECEPTION - THURSDAY, SEPTEMBER 27, 5-8P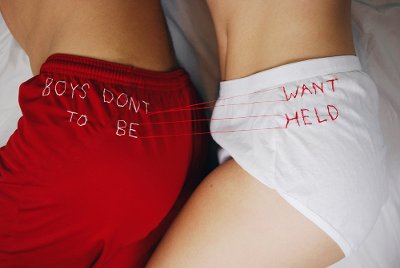 image shown: Rora Blue, from the series "Don't"
SPECTRUM brings to MCLA Gallery 51 a reflection and conversation on the gender continuum—exploring cultural and social issues of gender roles, norms and identification. The work include in SPECTRUM examines masculinity, femininity and gender identifications between and outside of this binary.

The 29 national and international artists in the show have used their artistic voice to examine, question, confront and critique the relationships between gender and society.

"This exhibition turns to the ability of artists to confront the status quo and challenge cultural standards, providing a framework for discussion and change through visual arts." - Arthur De Bow, MCLA Gallery 51 Curator

The exhibiting artist are:  ADAM ATKINSON, KATINA BITSICAS, RORA BLUE, ANA CIGON, AARON COBBETT, BUG DAVIDSON, ALEXANDRIA DETERS, LOU EBERHARD, ELISSA RAE ECKER, RAUL GONZALEZ, KENNETH GUTHRIE, KEAVY HADLEY-BYRNE, MARGARET HART, EVERETT HOFFMAN, KIANA HONARMAND, KATIE HOVENCAMP, VAUGHAN LARSEN, GEORGE LORIO, JOHN MANION, CHRISTOPHER MATTHEWS, FELICITA MAYNARD, CAITLINN ROSE O'BRIEN, RACHEL O'DONNELL, KYLE QUINN, SHAWN ROWE, SAIRO, ABBY TAYLOR, BREA WEINREB, MONICA VELEZ.
Read the press release
See additional images from the exhibition
Additional Programming:
What We Ask of Institutions: Art, Race, and Protest Today
October 16, 6-7p MCLA Design Lab
Expanding on ideas presented in her recently published book "Whitewalling: Art, Race and Protest in 3 Acts," join Aruna D'Souza for a free, public lecture at MCLA Design Lab (49 Main St.)

The talk will be followed by a Q+A session.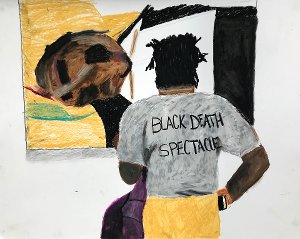 Aruna D'Souza writes about modern and contemporary art; intersectional feminisms and other forms of politics; and how museums shape our views of each other and the world. Her work appears regularly in 4Columns.org, where she is a member of the editorial advisory board, and has been published as well in The Wall Street Journal, CNN.com, Art News, Garage, Bookforum, Momus, Art in America, and Art Practical, among other places. 

Her book, Whitewalling: Art, Race, and Protest in 3 Acts was published by Badlands Unlimited in May 2018. She currently editing two forthcoming volumes, Making It Modern: A Linda Nochlin Reader, which will be published by Thames & Hudson, and A Presence Which Signals Absence: Lorraine O'Grady Collected Writings 1977-2018.

This talk is made possible through the generosity of the Hardman Family Endowment.
Why Representation Matters: A conversation about the role of museums
November 8, 2-4p MCLA Gallery 51
(part of MCLA's Day of Dialogue events)
BCRC director Michelle Daly will lead the group in a conversation that explores how artists and art institutions are responding to the colonial legacy of the museum. Using recent controversies at the Walker Museum (Sam Durant's Scaffold) and the Whitney Biennial (Dana Schutz's Open Casket) as our jumping off point – we will discuss how contemporary art museums and arts institutions are grappling with these questions. While also considering how an expanded understanding of art, which considers the cultural position of the artist, moves us away from the traditional neocolonial structures of (western) art history.
SPECTRUM: embodied
link to program
Co-curated by Bryanna Bradley '17 and Michelle Daly. 
with work by: Aye Eckersen, J. Bouey, Katy Pyle, Rina Espiritu, Malcolm Peacock, Amanda Romanelli, Don'Jea Smith, Margareth Antonio, Alyssa St. Franc, Billy Dean Thomas.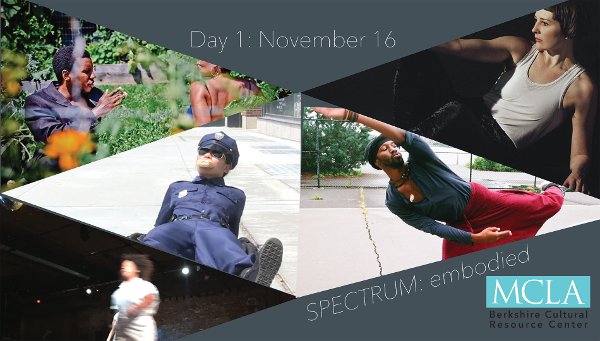 November 16-17 various locations
Schedule of Events (subject to change)
November 16 - link to fb event
Rina Espiritu: Daydreaming: The cop is studying - (Durational Performance, Freel Library)
Malcolm Peacock: 
A reading class called 
Of what had I ever been afraid? 
(
Bowman 319) utilizing the texts of Malcolm X and Audre Lorde to have participants consider how and reflect upon the ways in which speech/movement play potentially active roles in their lives.
MCLA Campus: Walking Performance Tour (meet at Freel Library)
November 17 - link to fb event
Ballez Class taught by Katy Pyle at the Campus Center Dance Complex
Guided Tour - Spectrum Exhibition - MCLA Gallery 51
Works in Progress Showing - Design Lab
Closing Celebration - the Green
SPECTRUM:embodied surveys the different thoughts, feelings, and expressions of gender in relation to space and the body. 
As an extension of the SPECTRUM exhibition at MCLA Gallery 51.
Some questions we'll be asking along the way:
can the performing body challenge Institutional space & culture?
how institutions persist or resists white/heteronormative bias? 
how gender is presented, mis- presented, or erased by institutions?
SPECTRUM:embodied invites performers and the curious to shift boundaries of creation, performance, and belonging. Performers will consist of both MCLA students and professional/ working artists.
SPECTRUM: embodied activities include a 'walking performance tour' of the MCLA campus, open mics, work-in-progress showings, movement classes and a closing celebration
Performers will inhabit different locations on and off-campus to make visible the often unseen pathways/entrypoints/windows into the unfamiliar.
CLOSING CELEBRATION featuring Billy Dean Thomas AKA "The Queer B.I.G"