College Town in the Berkshires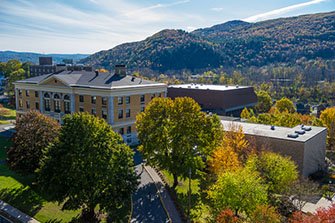 MCLA is located in North Adams, in the northwestern corner of Massachusetts, and is a part of the much-renowned Berkshire County arts community. We are close to the Vermont and New York state borders, and within a three-hour drive of both Boston and New York City. Our students come from all over the globe, and our faculty and staff enjoy the benefits of living where nature and culture coexist.
In June 2016, Harry Potter author J.K. Rowling announced that the Ilvermorny School of Witchcraft and Wizardry—featured prominently in a new story of the same title—is located on Mount Greylock, Massachusetts' highest peak and one of the Berkshires' most popular attractions. This magical connection enriches a well-established literary tradition in the Berkshires; authors like Nathaniel Hawthorne and Edith Wharton have also found inspiration in the area's hills and valleys. 

Plenty to Enjoy
From art galleries, eclectic shops, museums, music, film to dramatic performances, you can find it all within walking distance of the College. Public transportation is also available on campus. The city is also home to MASS MoCA, one of the nation's largest contemporary art museums, and MCLA Gallery 51. North Adams also boasts the state's highest mountain peak, Mount Greylock, and numerous state parks and natural wonders.
Close by, Williamstown is home to the highly popular Williamstown Theatre Festival, specialty boutiques and restaurants. In Pittsfield, take in a show at the Colonial Theatre or Barrington Stage Company. There's always a stimulating exhibit at the Berkshire Museum.  Then, enjoy a great meal on North Street in Pittsfield.
There are endless opportunities to explore the natural beauty of western Massachusetts. At MCLA, you can join the Outdoor Trailblazers Club and hike the Appalachian Trail. Visit the slopes of Jiminy Peak, Mount Snow, and Stratton Mountain in the fall with your mountain bike or in the winter with the Ski Club.
Visit Us
Our campus is beautiful. Our programs are engaging. We invite you to visit and discover MCLA for yourself.