---
 Certificate in Network Security
Now accepting Applications for Fall 2020!
Description of program: The Certificate in Network Security will provide participants with a strong, undergraduate-level foundation in networking, network security, troubleshooting, and problem-solving for computer networks. The Certificate in Network Security provides excellent preparation for a variety of career paths in business, education, non-profits, human services, or any endeavor that relies on networks and information technology.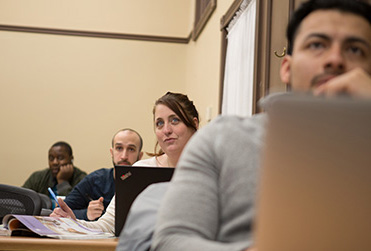 Credits: 21
Credits may be transferable to related programs in information technology, depending upon the transfer policies of the receiving institution.
Anticipated Courses (each course provides 3 credits)
CSCI 210 - Network I
CSCI 211 - Network II
CSCI 360 - Security I
CSCI 363 - Security II
CSCI 302 - Computer Triage
Two CSCI Electives
Financial aid and Program Info
Courses for this program will be offered at MCLA-Pittsfield starting in fall 2020

Students in these programs may also qualify for federal financial aid in the form of loans and Pell Grant opportunities.  

To be considered for the certificate program please complete an application and submit your high school or college transcript with an updated resume.