---
Certificate in Network Security
Now accepting Applications for Fall 2020!
Description of Program: The Certificate in Network Security will provide participants with a strong, undergraduate-level foundation in networking, network security, troubleshooting, and problem-solving for computer networks. The Certificate in Network Security provides excellent preparation for a variety of career paths in business, education, non-profits, human services, or any endeavor that relies on networks and information technology.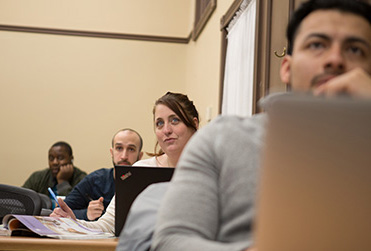 Credits: 21
Credits may be transferable to related programs in information technology, depending upon the transfer policies of the receiving institution.
Anticipated Courses (each course provides 3 credits)
CSCI 210 - Network I
CSCI 211 - Network II
CSCI 360 - Security I
CSCI 363 - Security II
CSCI 302 - Computer Triage
Two CSCI Electives
---
For students who qualify, financial aid may be available. Students may be able to qualify for:  
Federal financial aid, including loans and Pell Grant opportunities

For information on financial aid, see this link

Workforce training grants through the Commonwealth of Massachusetts

MCLA's certificate programs are ITA approved programs

Students who qualify may receive funding through 

MASSHIRE JobQuest
To receive funding, applicants must register with the Mass Hire Career Center.

Employer tuition remission programs that some employers provide. Students should check with HR at their places of employment to learn about funding option