Student Resources
Welcome to Career Development at MCLA! We're here to help you connect you with internships, graduate school opportunities, life-planning, and meaningful employment. 
Contact Dale Osef, Career Development Specialist, at dale.osef@mcla.edu for:
Resume Reviews
Cover Letter Reviews
LinkedIn/Networking Consultations
Mock Interviewing
Graduate School Planning
Contact Tony Napolitano, Internship/Employer Relations Coordinator, at anthony.napolitano.jr@mcla.edu for:
Internship Consultations
Job Shadowing Consultations
Career/Internship Fairs

---

Student Employment

Many MCLA students are awarded work study funds in their financial aid package.  There are also many jobs available for non-work study students.  A list of openings can be found here. Please see Human Resources for the necessary documentation to begin working at MCLA.
First Year Experience
MCLA Career Development recognizes how important it is to start your professional development journey early.  From orientation on forward, you will be engaged in a comprehensive career-planning curriculum. 
First, you will engage in self-discovery, via the O*NET Interest Profiler  O*Net provides you with a blueprint for the future.  It matches you with a three letter code that helps you learn more about yourself as an individual and what career paths might be best for you.
You will use what you learned from O*Net to understand your priorities and establish S.M.A.R.T. Goals.  S.M.A.R.T. stands for:
Specific
Measurable
Achievable
Realistic
Time-bound 
It is our goal to empower you to create a path by which you can engage in personal and professional development. You can accomplish this by taking advantage of leadership opportunities and engagement with the Career Development Office at MCLA.  We believe that goal setting and follow-through are critical to success in early and on-going professional development. 
Career Development will continue to engage with you throughout your first year through a series of workshops, one on one coaching appointments, and more.
Check out our mock cover letter and resumes, tailored to the MCLA Experience.
---
Sophomore Year
As a sophomore, you will likely have completed a job shadow.  While we encourage professional dress for shadowing experiences, it is a necessity for being successful in your next professional endeavor.  Please see our internships page for a complete guide to dressing for success.
Thinking about continuing your education?  Career Development has plenty of graduate school resources for you too.
It's never too early to start networking, but we believe you should start no later than Sophomore Year.  The easiest and most productive place to start is on LinkedIn.  Please see our guide below for all of the great resources LinkedIn can provide to you, as you progress through your professional journey.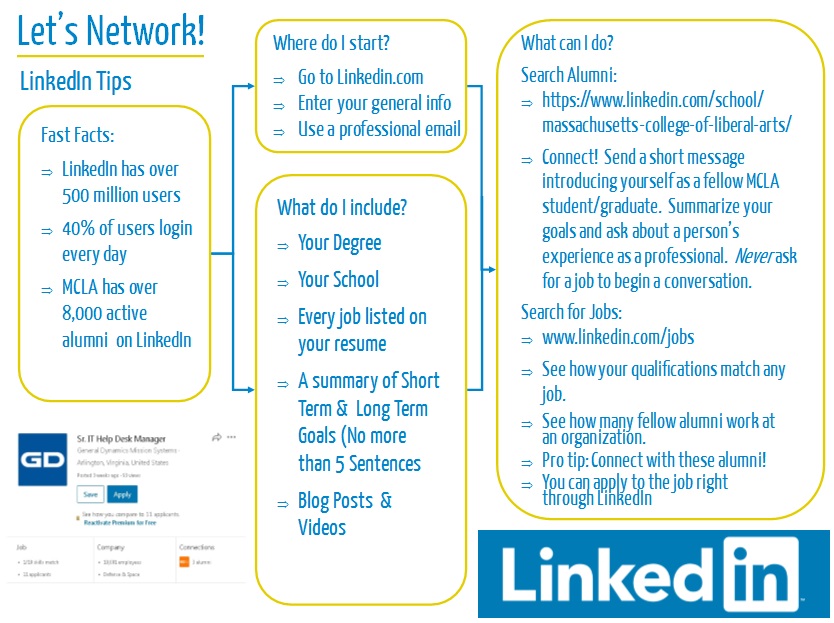 ---
Senior Year
As seniors and alumni, we encourage you to take advantage of a full range of resources, including: resume review; mock interviewing; drafting personal statement for graduate school; networking tips; and much more.
---
Resource Library
Please See our resource library below for excellent information on cover letters, resumes, interviewing, and the job search.