Dare to Explore: Undeclared at MCLA
This just in - you don't have to have it all figured out.
Lots of students feel unsure about what major they want to declare. In fact, 75% of students will change their major at least once before they graduate.
Perhaps you have so many different interests, that it's hard to pick just one major. Or maybe you feel like you haven't found your passion yet. The good news? At MCLA, you'll be able to explore a wide array of subjects and majors, and you'll also have help making decisions along the way.
Why Start Undeclared?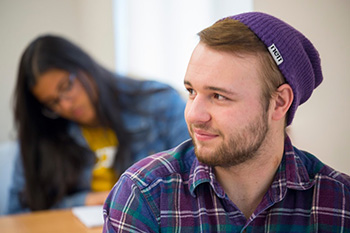 Don't rush the decision. It's important to take time to explore different subjects, as well as your own values and interests and how they align with different majors. In fact, studies show that students who do take the time to explore have higher graduation rates than students who commit early.
Completing a degree at MCLA is about more than the selection of a major. You'll start by taking classes to fulfill the core curriculum, which will introduce you to a multitude of subjects. You'll also have opportunities to participate in all kinds of out-of-classroom experiences, such as internships, studying away, and service learning. These experiences, combined with your academic work, will help you build a life of meaning so that you can make an impact in the world – not just get a job.
How Important is my Major?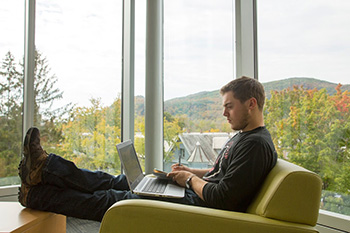 Selecting a major is an important decision. However, sometimes students feel the need to rush into a premature decision when choosing a major. Check out this video to hear what a former dean from Yale University has to say.
You also might be wondering what career options are available to students who graduate with degrees in various majors. Check out this resource (What Can I Do with a Major) and explore. The amount of options available might surprise you.
Undeclared FAQ
Is it a bad thing to be undeclared?

Of course not! It's a fantastic decision to take time to explore different subjects, and to reflect on how your strengths and values fit with different majors.
How long can I stay undeclared?

You can remain undeclared until you complete 60 credits, which is typically after your second year. At that point, you'll likely have completed all your core curriculum, and will need to start on courses in a major program.

Undeclared students are assigned an advisor in the Center for Student Success and Engagement (CSSE). These advisors work to help you identify and explore classes that interest you, and will help you build class schedules that reflect your interests.
What if I can't decide on a major?

There are lots of people across campus who can help you make that decision. The first place to start is by talking with your CSSE advisor. They can connect you to lots of resources, like setting up meetings with faculty members or other students in your major of interest. CSSE is also home to MCLA's Career Development Office, where you can get additional guidance in choosing a major.
What if I declare a major and it ends up not being the right fit for me?

You can change your major again. It's important to make informed and well-researched decisions when declaring a major, but we can't predict the future, or how we'll feel once we start taking classes in that major. If you have second thoughts about your choice, talk with your faculty advisor or CSSE advisor. We'll help you come up with a new plan.