MBA Program Details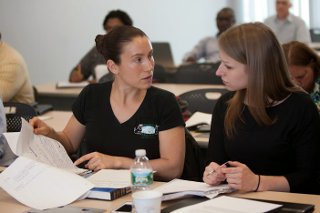 MCLA's Master of Business Administration offers a blend of classroom experience and practical hands-on fieldwork in a cohort model of academic instruction. The curriculum is designed as a part-time advanced business degree for working adults.
Students will gain knowledge and skills immediately relevant to their work, and as graduates of the MBA program they will be prepared to assume increased responsibilities in their current places of employment and also possess capabilities to move into leadership roles.
Curriculum
The core required courses are those considered vital to the necessary development of the managerial and leadership skills and knowledge of the student. Core courses cover the major functions of marketing, finance, product and service operations, and management. Core courses also introduce significant external factors impacting business decision making: competing in global economies and markets, and sustainability and social responsibility. 
A capstone course in strategic management addresses integration among business functions and connections between internal operations and developments in the external environment, recognizing that management problems in the real world most often require integrative solutions.
The elective courses recognize the unique needs of the dominant private and public industry clusters in the Berkshires and allows for students from various organizations to customize the program to their interests and needs.  The Special Topics in Business course will allow for the incorporation of unique local expertise or interest into the program.
Goals
The student profile of an MBA graduate will include the following areas of knowledge and skills: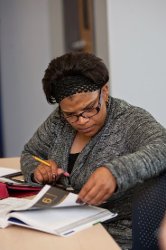 Critical thinking and program solving skills transferable among various contexts;
Recognition and resolution of ethical issues in management decision making and business operations;  
Understanding of the social, political, public policy, economic, ecological and multicultural environments of business, and implications for management problems and processes;
Working knowledge and skills in marketing, finance, operations, human resources MIS and accounting; understanding of linkages among these functional areas;
Collaborative teamwork and team leadership skills;
And integrative skills among internal functional areas and forces in the external environments of organizations, including overall planning, budgeting and control processes.
In addition, it is the goal of the program to provide knowledge and skills immediately relevant to their work. Students will gain an all-encompassing business perspective and networking system to advance in a career. Most will complete their coursework within two years.
Local & Global Networking
MCLA's department of Business Administration and Economics has strong connections to both the local business community and its network of alums; these connections are already providing a wealth of field-based learning opportunities for undergraduate students, and will serve as the basis for providing similar opportunities for you, our graduate student.
MCLA has developed a number of relationships with local employers that have established overseas business connections, as well as with international academic institutions such as Shanghai Institute of Foreign Trade (SIFT) and Hebei University in China.  As the global economy continues to grow, MCLA will continue to explore ways of capitalizing on these connections to engage students in learning experiences that expand your understanding of global business challenges and opportunities. 
The Cohort Model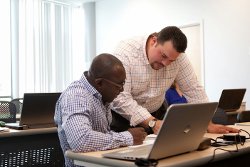 The program is designed for a cohort of students to progress through the work together. This model enhances the adult learning experience through building relationships between students and faculty as well as among each other. Students will be supported and motivated by a cohesive team with a shared set of goals that will challenge and encourage them. 
Learn more about MCLA's first MBA cohort.
Delivery
Designed as a part-time program to meet the needs of the working adult learner, the courses will meet through a combination of online and face-to-face instruction one course at a time. Online learning will take place using MCLA's state-of-the-art classroom management system.
Graduation Requirements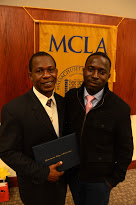 Graduation requirements include the completion of 45 credits of graduate business courses.  Credit waivers may be available for those students who already possess an undergraduate business degree. 
The 45 credit program consists of (5) foundation courses in addition to seven (7) required courses and three (3) elective courses.
The 30 credit program consists of seven (7) required courses and three (3) elective courses.  
A minimum grade point average of "B" must be maintained throughout the life of the program.  Students with undergraduate degrees in areas other than business will complete (5) five foundation courses prior to matriculation unless proficiency can be demonstrated.