Master of Education
By undertaking graduate level coursework in education, you commit to shaping our nation's future, and to making positive, long-term change in this world.
Transformative Experience
Our Master of Education Program will prepare you to transform society by motivating, challenging, and assisting children in all educational settings.  Our faculty, students, and alumni shape how children learn - in our region, the Commonwealth, and throughout the United States.  These professionals are engaged with a wide array of educational challenges: from closing the achievement gap to making best use of classroom technology, and from educational ethics to assisting students with special needs. Our program is designed to meet your needs and learning interests, and to help you achieve your specific career objectives. You will have considerable flexibility as you pursue your educational goals.
The Right Choice
There are many reasons to choose MCLA for your Master of Education: a stellar faculty, an academic program that blends a dynamic classroom experience with practical fieldwork, and a close-knit program that fosters meaningful collaboration.
To learn more about our Master of Education program, including admission requirements, program content, and coursework, download our Graduate Education Catalog.
Contact: Nancy Pearlman, Coordinator of Educator Licensure and Placement, n.pearlman@mcla.edu
Learn about the M.Ed Program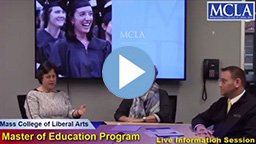 The following is an Information Session for students who are interested in the Master of Education program at MCLA. This session includes a program overview, admission information, timeline, and a question and answer period.
---
In the News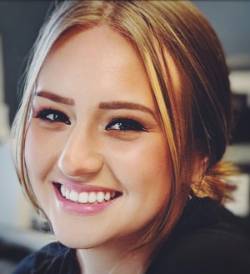 Interdisciplinary Studies and Early Education major Kaylea Nocher '21 has created a Facebook group for school children called Berkshire Buddies. "More than 260 kids joining within 12 days is really awesome and I'm so glad," she said.
Kaylea Nocher '21 Helps Kids Remain Social with Berkshire Buddies
04/08/20
---
Success Story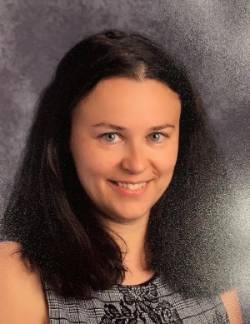 An experienced teacher, the current head of the Berkshire County Elementary Principals Network, and a graduate of MCLA's Master of Education program as well as MCLA Leadership Academy, Craneville Elementary School Principal Annie Pecor knows well that working in education can be challenging.
03/23/20
---
MCLA's two newest education professors, Dr. Clio Stearns (left) and Dr. Maggie Clark (right), began teaching here in August 2019. They both report seeing a lot of passion from their students, and have been impressed with their input and reflections on how education works in the U.S.
2/11/20
---

Paula Lima Jones (photo above) is getting her colleagues to think about their work in different ways. As the first Dean of Equity and Inclusion at Miss Hall's School in Pittsfield, the bulk of her work begins with a simple, albeit often unrecognized, fact: Every single day, students enter institutions neither designed nor intended for them. As a champion of social justice, Miss Hall's added this position to demonstrate the school's commitment to the ongoing work required to be an inclusive community.
---

Mass Appeal: Why children always need recess
Dr. Dale Fink, education professor at the MCLA, reported the results of his recent study on the impact of recess for both students and teachers.
---
Amanda Botelho '20 is enrolled in our 4+1 program: Freshman Aspires to Teach English Literature
"Being able to get a master's in five years is awesome. It will help me to save time and money, and jump into my career sooner."
---

Alumna's Teaching Strategies Revolutionize Math Class
---
 Science Educator Named to Jorge Professorship in Education
---
Alumnus Inspires High School Student with Creative Curriculum