Convocation 2018
Tuesday, September 4, 2018, 12:00 p.m. 
Featured Speaker
Jamal Ahamad '11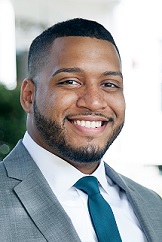 Originally from Brooklyn, NY, Jamal Ahamad graduated from MCLA in 2011 with a Bachelor of Arts degree in creative writing and minor in arts management. Since then, he has put his liberal arts education to use by working in a variety of fields. He has done graphic design at Crane Stationery; social media marketing and fundraising within the MCLA Alumni Office; danced across the county (and halfway across the globe) as a hip-hop dance instructor; taught students within an academic setting at BerkshireWorks, BART Charter Public School, and the newly built Taconic High School; and most recently, launched his own videography venture. The college honored Ahamad with its Distinguished Alumni Award in 2017.
A talented member of the Berkshire community, Ahamad has never lost sight of the fact that he is committed to being a lifelong learner and has made it a point to re-enroll at MCLA to pursue his Masters of Education. With his attention set ahead of him, Ahamad is dedicated to helping make Berkshire County more accessible to more people by sharing his own passions. With that said, Ahamad takes great pride and joy in being able to serve wherever he can.