Community Based Learning
What is community based learning?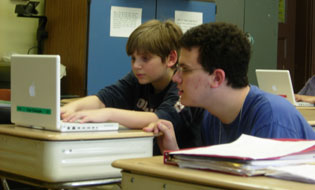 Community based learning facilitates a connection between classroom learning and direct experience, establishing a context in which students may deepen their understanding of course materials through involvement in, and exchange with, the community by participating in agreed upon projects and services that are mutually beneficial to students and the community partner.
In the past ten years, over 1,900 MCLA students have completed 22,262 community based learning hours for 31 professors, in over 100 engaging courses. These students have helped identify and solve pressing community needs, worked with and learned from community leaders, and enriched their academic learning.

Community Based Learning Courses
Here's a sample of the more common community based learning classes and projects.  Download the full list.
Introduction to Leadership

Athletic Training Practicum

Future of Food

Arts Management

Public Relations

Environmental Psychology

 
What does the Community Learning Operations Committee do?
The Community Based Learning Operations Committee is comprised of two faculty co-coordinators and the Director of Civic Engagement, creating a bridge between Academic Affairs and Student Affairs. The Committee:
1)    Meets with new faculty every year at the New Faculty Orientation to introduce service-learning as a potential pedagogy;
2)    Meets with community partners once a semester to gain information about community needs and issues that we later communicate to interested faculty, as well as to solicit feedback from community partners on new initiatives that the Committee is proposing;
3)    Sponsors a community based learning luncheon every semester, one that enables service-learning faculty to get to know each other and build community and the other that focuses on a specific theme or issue;
4)    Facilitates a community based learning workshop for faculty who have ideas about courses in which they are considering integrating community based learning; reviews best practices for community based learning;
5)    Engages in individual outreach to faculty developing community based learning courses; and
6)    Consults with the Dean of Academic Affairs, the Vice President of Academic Affairs, and the Vice President of Student Affairs regarding finances, as well as major projects and initiatives.
MCLA Service Learning Contacts
Sumi Colligan, Ph.D., Professor
Department of Sociology
413.662.5472
 

Elizabeth Hartung, Ph.D., Professor
Department of Mathematics
413.662.5369

Spencer Moser, Director
Center for Service and Citizenship
413.662.5251