MCLA's Travel Courses Take You Places
Expand Your Horizons, Study Off Campus
If you think you would like to study somewhere else but are not sure you want to be away for an entire semester, then MCLA's travel courses may be perfect for you. On-campus sessions and on-site visits combine to give you a unique educational experience that you will never forget.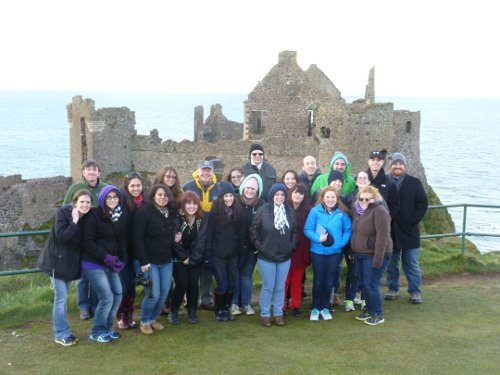 Travel courses
cover a range of subject areas, from history, political science, business, biology, environmental studies, English, and sociology, to name a few
are conducted by faculty who are experienced travelers and who are experts in their fields
are held during an extended spring break or sometimes during winter break
let you experience another culture in an immersive experience
provide some limited scholarships to help defray costs to qualified applicants
may be a gateway to later study abroad opportunities or international travel
Learn more about the travel courses being offered in the spring semester and see what kinds of travel courses students have enjoyed in the past.
For more information on travel courses, contact Academic Affairs at 413.662.5242.
Winter/Spring 2019 Travel Courses
Everglades and South Florida
January 12-21, 2019
Dr. Dan Shustack

Florida has a rich history, diverse ecology, and dynamic present. This field trip lets you explore the historical and contemporary interactions of people with their environment. We consider the human history (including Indians, Spanish, and US colonists) and the historical and modern ways in which people have altered and existed in Florida's environment.

China Travel Course
March 14-24, 2019
Professors Ben Kahn and Tom Whalen

China is one of the world's oldest civilizations going back 5000 years. She has transformed herself into a 21st century global economic leader. This course insures that students are exposed to China's history and culture, while providing them with the knowledge and experience to perform in the global economy.

South Africa Travel Course
March 14-25, 2019
Dr. Anna Jaysane-Darr

This course examines contemporary South Africa and diverse South African communities in historical and cultural context. It is built around a travel component that will include historic sites, museums, local organizations, cooking class, and street art.

Cartagena, Colombia Travel Course
March 15-25, 2019
Dr. Mariana Bolivar Rubin

The course, we will examine significant notions and debates about Latin American cultural identity. We will focus on historical events and cultural productions from the colonial period to the present throughout the Spanish-speaking Caribbean South American.

Ireland Travel Course
March 16-25, 2019
Dr. Anthony Daly

Explore the rich history and culture of Ireland. The course will acquaint students with Ireland's history, culture, and society by visiting historical sites, museums, vibrant cities, and the Irish countryside.

Mexico Travel Course
March 15-25, 2019
Dr. David Cupery

The course aims to help students develop a more complete and nuanced understanding of Mexico. This will be done through study of Mexican history, politics, socioeconomics and a week-and-a-half visit to three parts of the country, where students will experience the issues and society of study firsthand.