MCLA's Travel Courses Take You Places
Expand Your Horizons, Study Off Campus
If you think you would like to study somewhere else but are not sure you want to be away for an entire semester, then MCLA's travel courses may be perfect for you. On-campus sessions and on-site visits combine to give you a unique educational experience that you will never forget.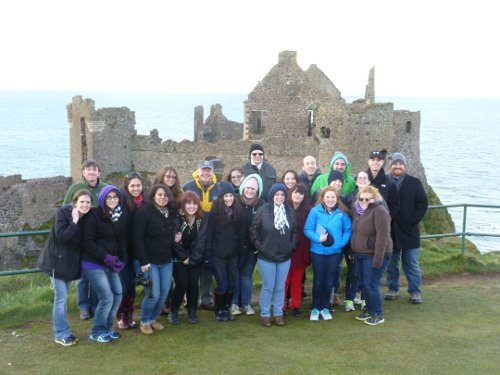 Travel courses
cover a range of subject areas, from history, political science, business, biology, environmental studies, English, and sociology, to name a few
are conducted by faculty who are experienced travelers and who are experts in their fields
are held during an extended spring break or sometimes during winter break
let you experience another culture in an immersive experience
provide some limited scholarships to help defray costs to qualified applicants
may be a gateway to later study abroad opportunities or international travel
Learn more about the travel courses being offered in the spring semester and see what kinds of travel courses students have enjoyed in the past.
For more information on travel courses, contact Academic Affairs at 413.662.5242.
2019/2020 Travel Courses
Ecology and Management of the Adirondack Park
October 11-14, 2019
Dr. Elena Traister

During this field course, we will explore the diverse biological communities of the Adirondack high peaks region and learn about the history and management of the Adirondack Park and Forest Preserve. We will learn about the human history of the Adirondacks, including how people have altered this landscape and the events that led to its preservation. We will visit natural areas and interpretive sites for an up-close view of the ecology and characteristic flora and fauna of the region.

Japan Travel Course
March 12-23, 2020
Dr. Kailai Huang


This travel course is themed on the interplay between Japan's traditions and modernity. Through pre-travel classes and visits to some of Japan's most famous places, including the cutting-edge metropolis Tokyo, the exquisite ancient capital Kyoto, and the evocative city of Hiroshima, students will gain an in-depth knowledge and an intimate experience of Japan's history, religion, culture and society. Many sites we will visit are on UNESCO's World Heritage List.

Peru Travel Course
March 12-23, 2019
Dr. David Cupery

 This interdisciplinary course will bring students face to face with Peru's stunning natural beauty and rich cultural diversity, past and present. Visit world wonder Machu Picchu and other remarkable Incan archaeological sites. Spend two days touring the islands of beautiful Lake Titicaca, including a homestay with families in a traditional indigenous community. Sample a variety of excellent Peruvian dishes, music, dance and handicrafts. Take in the majestic views as you hike (optional) in the Andes mountains.

Munich and Comparative Cultural Policy
March 12-18, 2020
Dr. Jerome Socolof

Students will have the opportunity to explore the outcomes of Western European cultural policy on the ground in Bavaria's capital, Munich.  Students will gain a deep understanding of American cultural policy and the comparative policy of an EU member state.  Students will put that knowledge in context through a seven-day exploration of the major arts and historical sites of the city including the Alte Pinakothek, Deutches Museum, Marienplatz, Nymphenburg Palace, and Neuschwanstein Castle.