Business Administration Major, Concentrations, and Minors
The Department of Business Administration and Economics offers a four-year program leading to a Bachelor of Science in business administration. The program is designed to develop liberally educated professionals with the knowledge, perspectives, problem-solving abilities and ethical values necessary for successful careers and responsible citizenship.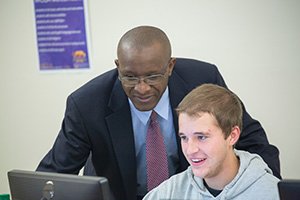 The program has several options, including a general program in business administration, as well as five areas of concentration. All of our options offer a strong foundation of required courses, combined with relevant departmental and non-departmental courses that give students a strong base in communication, technical and administrative skills. The goal of our program is for students to become academically well-rounded and technically prepared for a career in business, government, non-profit organizations or for graduate study.
See General Business Major course requirements.
Concentrations
We have a variety of exciting concentrations to choose from - so you can focus on what excites you. The Concentrations descriptions below link to flow sheets for each program so you can see the specific course requirements for each concentration - and see how your concentration fits in with your major program, and how your major program fits into your overall studies at MCLA!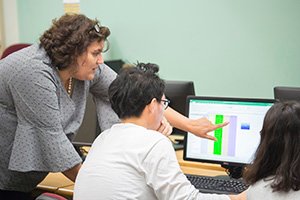 Although strong quantitative skills and attention to detail are important qualities for an accounting concentration, students need to acquire other skills as well. Many students find the accounting concentration to be useful preparation for careers in consulting, investment banking, general management, public accounting, and securities analysis.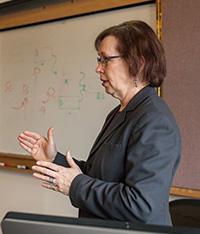 Events Management is a rapidly growing multi-billion dollar industry. Conferences, meetings, trade shows, and social events are regularly hosted all over the world. Career paths include corporate planning, association planning, special event companies, and intermediaries or third party planning companies.
Today's global economy demands a sophisticated knowledge of business, legal, and cultural practices. Our international business concentration will prepare you to step confidently into careers in multinational corporations and government agencies.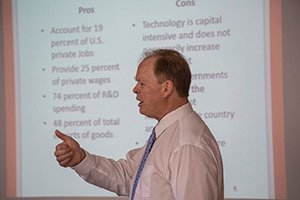 This concentration offers a solid grounding in applying the knowledge essential for understanding consumer and organizational buying patterns and for developing successful marketing strategies. Many students with a concentration in marketing have gone on to work in brand management, advertising, sales, marketing research, consulting, and entrepreneurial ventures.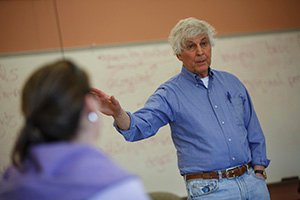 Managing people, projects, and programs requires a considerable range of knowledge and skills. This concentration offers courses and experience to students who want careers in management or want to take on major challenges and responsibilities in private, public, and not-for-profit organizations.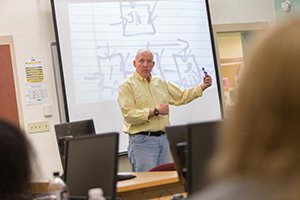 The $200 billion sports industry thrives not only through its athletes, teams, and coaches, but also through those who can oversee multiple components involved in the business of sports. This concentration combines course work in management and marketing fundamentals with sport and recreation needs.
Minors
Business Administration Minor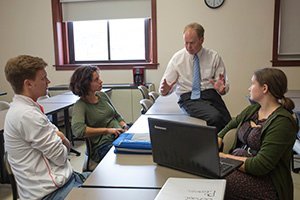 This minor program provides non-majors with a basic understanding of the structure and function of businesses and organizations - management of human, financial, physical resources, marketing of products and services, and the role of businesses and organizations in the national and global economy.
Required Courses:
BADM 100 Explorations in Business
or ECON 141 Macroeconomics
BADM 224 Financial Accounting
BADM 260 Management
BADM 270 Marketing
Two electives selected from any 300 level or higher department offering for which prerequisites have been met.
Economics Minor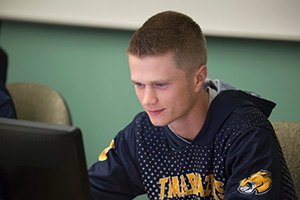 In economics, students study how societies produce and exchange goods and services to satisfy material needs. Economic analysis is widely used in business and government in a variety of ways. A minor in economics will provide a student with an introduction to how economics approaches a range of social problems and how economic theory systematizes the analysis of the costs and benefits of decisions. The economics minor would be useful in a variety of careers including business, law, public policy, engineering or journalism.
Required Courses:
ECON 141 Macroeconomics
ECON 142 Microeconomics
ECON 216 Statistics for Economics and Business
THREE economics elective courses, TWO of which must be at the 300 or higher level.
Marketing Minor

The marketing minor is designed to familiarize students with the marketing process and to provide them with a foundation in the concepts, skills, and tools necessary to successfully enter and advance in a variety of career paths.
Required Courses:
BADM 100 - Explorations in Business
ECON 142 - Microeconomics
BADM 270 - Marketing
BADM 381 - Consumer Behavior
THREE of the following:
BADM 380 - Strategic Marketing
BADM 382 - Marketing Research (has additional pre-reqs)
BADM 384 - Marketing Communications
BADM 385 - Global Marketing
BADM 386 - Sport Marketing (has additional pre-reqs)
BADM 387 - Service & Event Marketing
Entrepreneurship Minor

New business ventures continue to stimulate the global economy. A minor in Entrepreneurship gives you the foundation to understand basic business principles and how to turn your ideas into viable ventures. It is possible that you could create a new and exciting business concept which could then be turned into a business upon graduation. A minor in Entrepreneurship is available to all students at MCLA, regardless of major.
Required Courses:
IDST 200: Introduction to Leadership
BADM 270: Marketing
ENTR 210: Principles of Entrepreneurship
BADM 395: Accounting for Entrepreneurs OR
BADM 340: Financial Management (additional prerequisite)
BADM 367: Small Business Entrepreneurship
ENTR 510: Seminar for Entrepreneurship