"I really have to give kudos to the computer science department. All my professors at MCLA were great. They went above and beyond, and put in tons of hours to help me out in so many different ways. This included a number of professors who sat down with me, went over my resume, listened to my presentations and guided me through the job search." - Max Eve '13
---

Careers in fields such as computer science, computer engineering, and information sciences have continuously ranked among the highest paying jobs available today, and despite the turbulence present in today's economy, thousands of job openings in computer related fields are becoming available every single year.
Why MCLA is Different
The Department of Computer Science at the Massachusetts College of Liberal Arts will prepare you to enter this exciting field. Our computer science program offers students a choice of five areas of concentration: electrical engineering, software development, information technology, business information systems, and bioinformatics.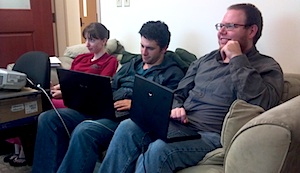 Our graduates have found employment with successful companies such as General Dynamics, Drive Dominion, Arcadia Solutions, and Dion Money Management, Inc. Others have successfully applied to top graduate schools across the nation.
Applying
Our department is always looking for new applicants, as well as students who wish to transfer here from other institutions. Many students have transferred to the Department of Computer Science from two-year community colleges and were pleasantly surprised by small class sizes, competitive costs, and a friendly, productive atmosphere.
Contact the Department of Computer Science by emailing our Department Chair, David Eve, at D.Eve@mcla.edu, or by contacting our admissions department.
Thank you for your interest in our department, and we hope to hear from you soon!
MARV - A Robot Created by Michael Wheelock at MCLA!
Michael Wheelock ('13) signed up for the Robotics Development class at MCLA ... two months later MARV was born. There is no better way to get to know MARV than to watch the following video:
Congratulations to Mike on this fantastic robot! Mike accepted a job at Drive Dominion in Pittsfield, MA. We wish Mike the best of luck.