"I have found that my degrees in Environmental Studies/Science were very helpful to my job in land use planning. Topics such as Env. Law, and Government and Env. Policy helped provide an understanding of the foundations and history of the land use regulations I must now understand and navigate, while topics like Geology, Ecology, and River Systems etc.., have given me a fundamental understanding of the real world factors which necessitate the regulations and the science upon on which the policies are built." Nate Joyner '13
Read more about our graduates.
---
We are at a critical moment in human history where we are confronted with the challenge of sustaining the biosphere's structure and processes while at the same time providing for the well-being of its burgeoning human population. At MCLA we prepare students to tackle these issues by providing a rigorous, hands-on education in the interdisciplinary field of environmental studies. Students take courses in the environmental studies, as well as from related disciplines including biology, chemistry, earth science, economics, political science, philosophy, and sociology. Berkshire County, one of the most biodiverse regions of New England and home to an incredible variety of natural habitats, serves as our outdoor learning classroom. Partnerships with state and local organizations provide students with opportunities to apply their knowledge towards addressing pressing local environmental needs as early as their freshman year of college. Taking courses in MCLA's Core Curriculum allows students to see the world from multiple perspectives and prepares graduates to successfully adapt to the evolving demands of careers in the environmental field.



Why MCLA is Different
In the Environmental Studies Program at MCLA, students and faculty form a close community of scholars and practitioners. From your first semester, you will join a team of inquisitive and enthusiastic students who quickly get to know each other while wading through streams to contribute to long-term water quality monitoring programs, collecting local flora, doing surveys of red-backed salamanders, and banding migratory saw-whet owls. As early as during your first year in the program you'll have the opportunity to hear from experts from throughout the region regarding current issues in sustainability and, at the same time, work on projects to design solutions to local environmental challenges.
Students learn first-hand about natural processes and political structures by visiting the Everglades in Florida and the Adirondack Park as part of Environmental Studies courses that go on the road for days at a time. Many students have also independently studied in locations including Alaska, Montana, Kenya, Tanzania, Belize, Australia, Scotland, and the Czech Republic while completing the Environmental Studies Program.
The Environmental Studies Program at MCLA provides students with the knowledge, skills, and experiences they need to turn their passion for environmental issues into a career that they love.
When Your Professor is also a Lead Ecologist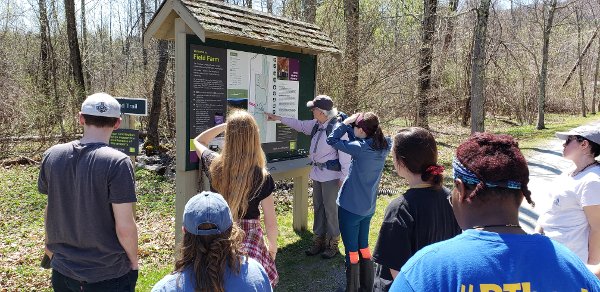 Dr. Julie Richburg, lead ecologist for inland natural resources at the Trustees of Reservations and an MCLA adjunct professor, leads an environmental studies class on a trip to the Trustees' Field Farm site. (read more)
---
Stories from the Field: Classes, Internships, and Alumni Updates