Combine Your Major with Teaching Certification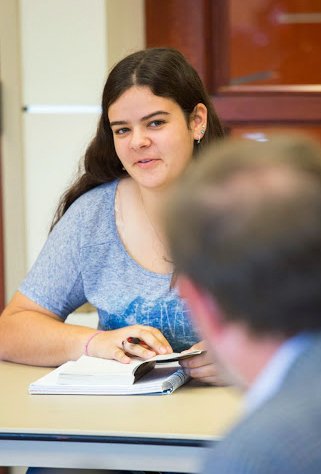 We have many majors who graduate as qualified teachers. By working with your faculty advisor to choose your courses carefully, you can complete MCLA's core curriculum requirements, your major requirements, and the teacher certification process in the normal four year time frame.
Students majoring in History can pursue initial licensure as an early childhood, elementary, middle school, or high school teacher. History majors can also pursue initial licensure as a teacher of history, or as a teacher of political science/political philosophy for middle school and secondary levels.
Students seeking initial licensure must complete their major requirements and a licensure program in education in one of the aforementioned areas of teacher licensure.
In an exciting new addition, MCLA now offers incoming students a 4 + 1 program--an opportunity to complete not only a bachelor's degree and teaching license, but also their master's degree – all in just five years. Click here for more information or contact the Education department.
Here are examples of schools employing MCLA History graduates as teachers:
Baystate Academy Charter Public School (Springfield, MA)
Berkshire Arts & Technology Charter Public School (Adams, MA)
Brighton High School
Charles H. McCann Technical School (North Adams, MA)
Community Charter School of Cambridge
Dedham Middle School
Drury High School (North Adams, MA)
Heath Elementary School (Charlemont, MA)
Hoosac Valley High School (Cheshire, MA)
Lenox Memorial Middle and High School
Lee Middle and High School
Pittsfield High School
Stamford Elementary School (Stamford, VT)
St. Stanislaus Kostka School (Adams, MA)