Internships
Internships provide students with opportunities to explore possible career paths and gain experience in a workplace environment. Some of our students find internships that directly relate to their studies, for example museums, law offices, and libraries. But many students intern with other organizations, where they enhance the transferable skills that they developed as part of their studies in history—for example, communication, research, and project-delivery—but also learn how their abilities translate from an academic setting to the workplace.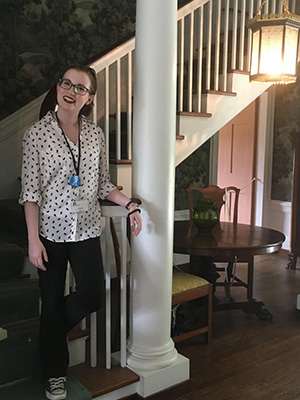 Students can work with their faculty advisor and the Internship Center to find a placement near the college or find a summer internship site that is close to home.
Internships vary from 3-15 credits. Each credit hour requires 45 hours on-site and most students complete a 3 credit internship (135 hours). During the semester that is about 10-12 hours a week or during the summer you can complete the hours in a more compressed time form if you work 30-40 hours a week.
Your faculty sponsor will work with your on-site supervisor to oversee your responsibilities and development. During the internship you will complete reflective journal assignments and after the internship is finished, a final project requires you to summarize your duties, experiences, and what you learned.
To learn more about internship opportunities and how to apply, visit the Career Services web site or contact Professor Anthony Daly.