One of the ways MCLA explores its Liberal Arts mission is to foster a cohort of passionate students - students who are intellectually engaged with each other and the world, who love books, writing, and learning for their own sakes, whose curiosity ranges beyond conventional disciplinary boundaries, and who crave intellectual challenges. The honors program aims to offer a home for such students. The idea behind honors at MCLA is not that you are undertaking more work, but that the work you undertake is more interesting.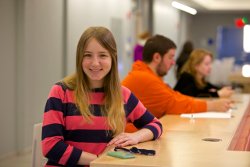 "I became a part of the Honors Program my first semester at MCLA. I have learned so much in the short time that I have been here; the extra challenge has been totally worth the effort. This program generates a community for students and also allows us to connect with our professors on a more personal level." - Allison Thienel, a freshman honors student
Our Facebook Page -- Please "like" us!