"The Political Science program cultivated my interest in public policy and equipped me with the skills needed to succeed in a challenging graduate program and find a fulfilling job in the field."
Corban Von Ouhl '13, graduate of the Masters of Public Policy program at George Mason University and now working for a Washington, D.C., consulting firm
---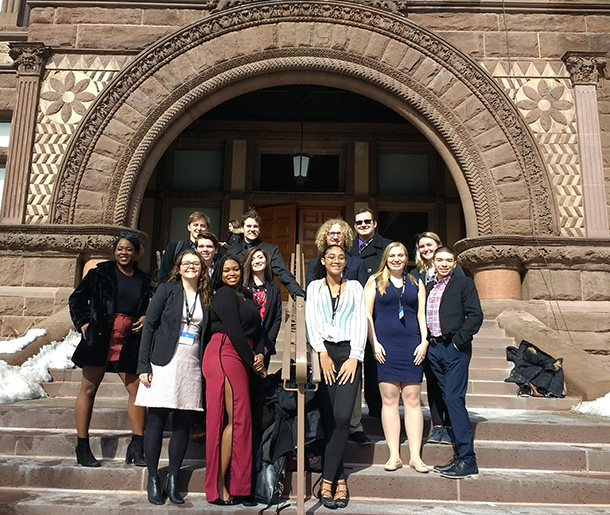 Why MCLA is Different
Our faculty offers an interdisciplinary approach to the study of government, politics, and policy at the local, state, national, and international levels. You interact with a range of policy makers and opinion leaders including elected officials, journalists, and scholars engaged in public policy issues.
Our curriculum prepares you for work or graduate study in political science, public policy, and law. In addition, you sharpen your skills in computer technology, research, analysis, and writing. By working with your advisor, you develop a co-curricular experience tailored to your career aspirations. The opportunities available to you include participation in the North American Model United Nations program, study abroad, service learning, and travel courses in Europe, Asia, and Latin America. We also have a fast-track program for those who are interested in going to law school, including 3+3 agreements with UMass Law and Western New England University School of Law.
The active Political Science Club offers you a forum for discussing contemporary issues and participating in elections. Each spring, high-achieving students are invited to join the MCLA chapter of Pi Sigma Alpha, the national political science honor society.
The close working relationships our faculty members have with experts in the field give you the opportunity to learn from practitioners. Past speakers at campus events include author Ta-Nehisi Coates, cybersecurity analyst Clint Watts, journalist Jeffrey Toobin, journalist Cokie Roberts (pictured left), Secretary of State John Kerry, Massachusetts Attorney General Martha Coakley, writer and activist Gloria Steinem, Ambassador Andrew Young, New York Times columnist David Brooks, journalist and author Bob Woodward, Dr. Robert Gates, former U.S. Secretary of Defense, Zainab Salbi (top of page), author and co-founder of Women to Women International, and immigration activist and journalist Jose Antonio Vargas.
Our faculty assist with internship placements in Massachusetts, New York, and Washington, D.C. Recent placements have included the State Department, the office of the public defender outside Washington, DC, and researching human trafficking with a nonprofit organization, in addition to many local opportunities in political campaigns and the administrative offices of towns and cities.