The Radiologic Sciences degree is a teachout for students who were already enrolled at Southern Vermont College. For new students we offer the B.S. in Health Science with a concentration in Radiologic Technology.
Overview of the Program
Radiography is the art and science of using radiation as a diagnostic tool in performing radiographic examinations. Radiologic Technologists apply the knowledge of anatomy, physiology, positioning, radiographic technique and radiation biology in performing medical x-ray examinations using established radiation protection standards in limiting radiation exposure to patients, themselves and others.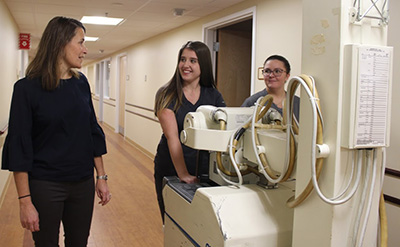 The BSRS degree prepares students for a career in the diverse and growing field of diagnostic imaging. This specific advanced education meets the need for sophisticated imaging management and leadership that can respond to clinical, organizational and fiscal demands facing the healthcare industry by incorporating advanced imaging modalities into the curriculum. Our curriculum is an expression of content that enhances entry-level education and supports multiple post-primary specialty certifications as well as a transition to education and management in advanced clinical practice. Students in the BSRS degree program engage in topics with more depth and breadth, resulting in a broader knowledge base and skill set than the entry-level radiographer.
As essential members of the healthcare team, radiologic technologists must be able to communicate effectively with patients, other health care professionals and the public. Radiologic technologists must be compassionate, competent and use problem-solving and critical-thinking skills in meeting the needs of their patients.
Accreditation
The MCLA (SVC Teachout) Radiologic Science Program is accredited by the Joint Review Committee on Education in Radiologic Technology (JRCERT). Contact information for the JRCERT: 20 North Wacker Drive, Ste 2850, Chicago, IL 60606-3182, Phone: 312-704-5300, Fax: 312-704-5304, Website: www.jrcert.org
and E-mail: mail@jrcert.org. The program has a full 8-year accreditation with the next review date in September 2024. MCLA is regionally accredited by New England Commission of Higher Education.
Student Health Policy
All BSRS students are required to submit the following information before entrance into their junior year: (1) results of a physical examination, (2) evidence of current immunizations and (3) CPR card for infant, child and adult. BSRS students complete an orientation program prior to entering clinical education which includes: (1) Infection Control and (2) Standard Universal Precautions at all the major clinical sites.
Admission Process for the BSRS SVC Teachout
Entering students must have had prior acceptance to the pre-radiology or BSRS program at Southern Vermont College. In order for a student to be eligible to take any RADS course, the student must have completed all general education and preparatory classes with a cumulative GPA of 2.85. The following classes also require a grade of C+ or higher: HLCR-100, HLCR-105, MATH-150 or College Algebra equivalent, BIOL-150, BIOL-342 and BIOL-343. A grade of C or higher is required in ENGL-150 or English Comp I & II equivalent.
Degree Progression and Readmission to the Program
In addition to the courses required for admission, a BSRS student must maintain a grade of C+ or higher in each RADS courses with the exception of RADS -470 471, 461, & 462, which require a grade of "C" or higher. BSRS students must maintain a cumulative grade-point average of 2.3 after their initial admission into the program.
A student who does not receive the required RADS course grades or who does not maintain a cumulative GPA of 2.3 or higher will be dismissed from the program. In order for the student to be eligible to reenter the program, he or she must reapply to the BSRS program. Readmission requires the student to meet all prerequisite requirements including the minimum cumulative GPA of 2.85. Readmission is determined by available seats and the determination of a point system. A student may only be readmitted to the program one time.
A student who is readmitted must repeat any RADS course (s) in which he or she has not received the required grade before being eligible to take the next course(s) in the degree sequence. A student may only retake courses in which he or she has not achieved the required grade. Course repetition is allowed on a seat-available basis only.
For other degree progression policies, refer to the BSRS Radiologic Technology Student Handbook.