Connect with a current Trailblazer
Reach out to a current student with any questions you have about MCLA!
Want to know what campus life is like at MCLA? Our students are eager to answer your questions. Each Trailblazer provides a unique perspective.
Carina '20
Political Science
Boston, MA
ct0831@mcla.edu
One of my favorite things about MCLA is the fact that I am in control of my education. I chose all my courses and make sure they are all topics that I am interested in. I have been able to utilize opportunities outside the classroom like travel courses and conferences. I overall have been able to set my own timeline for my college career and am even expected to graduate early. I appreciate MCLA for making that a possibility for me, especially at an affordable cost.
Aidan '21
English & Communication/ Broadcast Media
Oxford, MA
ar0723@mcla.edu
I chose MCLA because it is my mother's alma mater, is super affordable, and is nestled in a beautiful area. I am thankful for all the opportunities MCLA has given me, including becoming president of our radio station WJJW 91.1FM for my senior year.
Amalia '21
Chemistry/Physics
Boston, MA
ab9869@mcla.edu
My love of MCLA started with my first visit to campus. At first, I was nervous about the move from Boston to the Berkshires, but I realized I wanted to study in a culturally rich and naturally beautiful location. Since then, I have formed fantastic bonds with professors inside and outside the classroom. I also really value the abundance of events and organizations on campus that allow students to feel involved and make lots of connections.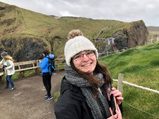 Crystal '21
Business Administration/Accounting
Cheshire, MA
cw8628@mcla.edu
I have been super involved in the campus community, even as a commuter! During my freshman year, I joined the Student Activities Council as a general member. Then, during my sophomore year, I became Treasurer, and now I am the President! I also have been inducted to the National Society of Leadership and Success as a member and am now the current President. Additionally, I have presented at MCLA's undergraduate research conference and took a travel course to Ireland.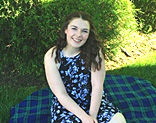 Lindsey '21
Arts Management & Performing Arts/Theatre
Prospect, CT
lr0050@mcla.edu
I love MCLA because I am a name not a number. I have had opportunities from day 1 that I would not have at a larger school. You really get the personal attention you need to succeed in not only your career, but in life. I even had the opportunity to produce a play this year!

Mackenzie '21
Arts Management/Theatre and Art History
South Kortright, NY
ml0469@mcla.edu
I chose MCLA because it reminded me of my hometown and I wanted to feel close to home, while still having independence. I have loved the location since my first visit to MCLA. There is so much to do in the Berkshires and I have loved exploring the area throughout my time here. I am a Resident Advisor this semester and I've gotten involved through planning events and getting to know what my residents are involved in and the common ground that we share.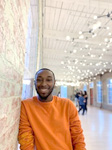 AJ '22
Arts Management/Theatre
Pawtucket, RI
ab4468@mcla.edu
I chose MCLA because it's a new environment I could explore and has a small, intimate community where I knew I could thrive academically and socially. I'm involved on campus through a variety of clubs including Nexxus Step Team, Men of Color Initiative, and VP of Christian Fellowship. My college choice was easy once I realized how great of a campus culture exists at MCLA. Also, my mom was happy to hear about the New England tuition reduction.
Aliza '22
Psychology/Health Science,/Child & Family Studies 
Springfield, MA
ag5014@mcla.edu
I chose MCLA because I was looking for a school that would enhance my leadership abilities. Not only that but I also want to be a part of a campus community where it is diverse and filled with new opportunities. I am now the secretary of the Nexxus step team, I am a Woman of Color Chapter Head and a part of a variety of clubs such as Latin American society and Black Student Union. Being at MCLA the staff here has  pushed me to be my best both academically and socially, which I am SUPER grateful for. 
Britsol '22
Environmental Studies
Easthampton, MA
bs3520@mcla.edu

MCLA felt like home to me my first day on campus. The small classes allow for developing fantastic connections with students who share your interests and professors who become mentors almost immediately. Everyone is wildly accepting and picking MCLA was THE best choice I have made in my life so far!
Anissa '23
Community Health Education/Health Sciences 
Boston, MA
ab8080@mcla.edu
The reason I chose MCLA was that I wanted change. A change of scenery and much more. I wanted to reinvent myself and bloom at a place that wanted students to reach farther than they had ever imagined. I chose MCLA because I knew that I'd be successful. Since being at MCLA, not only have I been able to excel academically, but I have also been able to be a part of the Women's Soccer team and Black Student Union and build the best of friendships. I know that change can be scary, but I did it and so can you! The thing I love the most about MCLA is how much everyone is so accepting of who you are and where you come from. The MCLA community recognizes you and wants you to be the best version of yourself.
Janeilah '23
Psychology
South Boston, MA
jv7386@mcla.edu
I chose MCLA because it was a different environment than what I was used to. Coming from a city to a suburban area was a big change, but I'm glad I did it because it gave me a chance to explore new things like visit the Hoosac Tunnel and MASS MoCA, my favorite museum. I'm a part of the NeXXus step team, Women of Color, Latin American Society and Black Student Union. Being involved in these clubs gave me a group of people I can trust and build amazing relationships with and has been a great experience.
Lucien '23
English & Education
Beverly, MA
lt7269@mcla.edu
I chose MCLA for 2 reasons: the first being the gorgeous scenery around me all the time. I still wake up in awe over the vast mountains that surround North Adams. The second reason is that the school felt like a community. It's much more personal and it is very clear that every individual student is valued as their own person. I love MCLA because it feels like a home away from home. It is extremely welcoming and a good fit for so many different people, no matter what your interests are.