Student Leadership Recognition Program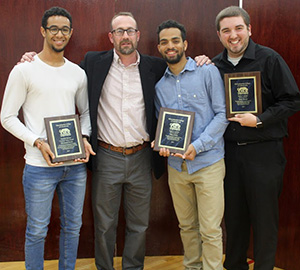 The 19th Annual Student Leadership Recognition program was Wednesday, April 22nd 2015 at 5:30 p.m. in the Amsler Campus Center Gym.
The Student Leadership Recognition Program honors students leaders who have "gone above and beyond" within the Massachusetts College of Liberal Arts community. This program highlights our belief that the out-of-classroom experience is a vital part of the overall College experience. We come together to honor their achievements and thank our student leaders for their hard work and dedication. They have truly made a difference in our lives and the lives of their fellow students.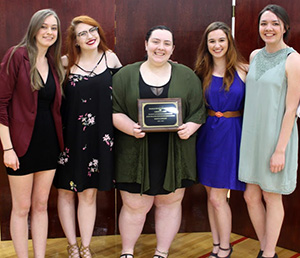 Those honored include:

Admissions Ambassadors
ALANA Club Council
Alternative Spring Break Members
Athletic Team Captains
Beta Lambda
Campus Conversations on Race (CCOR) Facilitators
Center for Service Program Coordinators
Club & Organization Executive Board Members
Individual Enrichment Program Summer Session
Inter Greek Council
Intramural Supervisors
Judicial Board Members
LEAD Staff
Massachusetts Campus Compact Newman Civic Fellow
NRHH Executive Board Members
Orientation Leaders
Peer Advisors
Pi Upsilon Pi
Resident Advisors
Residence Area Advisory Board Executive Members
STEM Fellows
Student Athlete Advisory Committee Executive Board Members
Student Government Association Executive Cabinet, Senators & Class Officers
Thank you to all our student leaders that have made this night possible. There are so many more talented students that work so hard throughout the year to create meaningful experiences for our college community.