Amsler Campus Center - Connect, Engage, Refuel, Recharge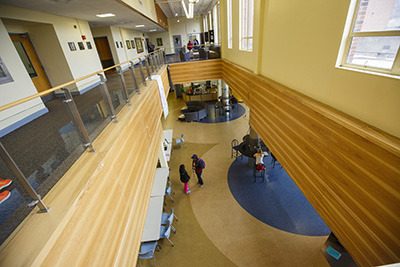 The Amsler Campus Center is the hub of the College. Featuring the main dining hall, Subway, a coffee shop, social spaces, a gym, fitness center, and a pool, it's your dining room, living room, and play room. Plus, it houses the MCLA Bookstore, a convenience store, an ATM, walk-up computer stations with printing capability, and the Campus Center Info Booth. Our Campus Center is also home to the Student Government Association office, select student club offices, student resource and civic engagement offices, and student meeting rooms. 
The Campus Center is open from 7:00 a.m. to 12:00 midnight every day and is bustling with activity well into the evening.