Identity & Gender Equality Resource Center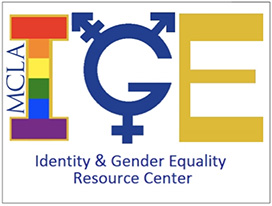 The MCLA campus is home to a diverse, vibrant, and engaged community of lesbian, gay, bisexual, transgender, queer, questioning, intersex, asexual (LGBTQIA+), and allied students, staff, and faculty. The Identity & Gender Equality Resource Center (IGE) actively fosters the academic success and personal growth of LGBTQIA+ students, and it offers college-wide services to enhance the campus community's understanding and appreciation of LGBTQIA+ people.
Our Center is located on the third floor of the Amsler Campus Center and is home to the College's Queer Student Union Club and Trans Affinity Group.
The Center's services include:
an office staffed by a professional program coordinator
a resource room that offers a welcoming and supportive environment for LGBTQIA+ people and their allies
resources, information, and referrals on LGBTQIA+ issues
campus-wide LGBTQIA+-themed educational programs and events, including Safe Zone Training.
The Identity and Gender Equality Resource Center (IGE) works to develop and cultivate a LGBTQIA+ friendly and knowledgeable community not just at MCLA but also throughout the greater Northern Berkshire Community. Through elevating safe spaces and educational programming, the Center strives to increase awareness and knowledge of issues in the LGBTQIA+ community pertaining to gender, sexual and romantic identities. This is coupled with knowledge of how these identities change and are significant to a variety of different cultures in hopes to develop a more understanding and safe community for people of all identities.
Example programs include:
Safe Zone Workshops
Lavender Reception & Graduation
Movie Nights
Ally Week
Pride Week
Tabling on various LGBTQIA+ topics
Hours: 9am-5pm Weekdays