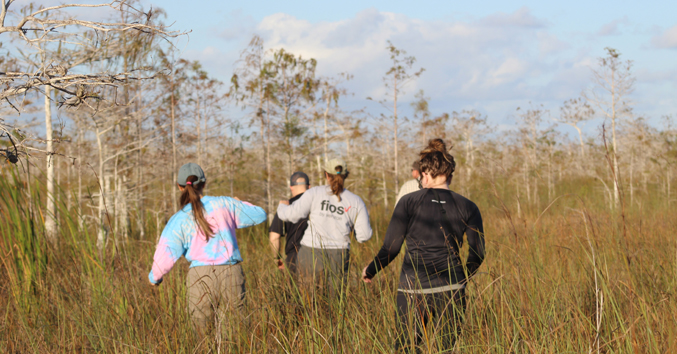 Above, wading through a cypress dome in Everglades National Park. Below, (top) kayaking on the Kissimmee River, and (bottom) Michael Friedman '17 takes a photo in a cypress dome.
Students Explore South Florida's Ecosystems
01/24/17
Kayaking through a mangrove forest, exploring cypress domes and observing wildlife such as manatees, alligators and crocodiles in their natural habitats were just a few of the activities a group of environmental studies majors experienced when they took a class field trip to southern Florida over their winter break.
The 12-day excursion – during which they camped in state and national parks as they learned about the ecology, characteristic species, natural communities and ecosystems of south Florida – wrapped up an environmental studies class taught by Dr. Daniel Shustack last fall.
"It was amazing to be able to see and experience these ecosystems up close and personal," said Kennedy Valois '17 of Clarksburg, Mass. "I really loved kayaking trough the mangrove forest at Nine Mile Pond in the Everglades. It was a beautiful place where the mangrove trees surrounded us, and would sometimes join above our heads, and leave only a narrow path to paddle through."
"We saw so many species of birds, bugs, reptiles, countless alligators and a few crocodiles, manatees, fish, and other aquatic species," said Michael Friedman '17 of Dalton, Mass. "The amount of plant life we saw was astounding as well. Coming from the very temperate New England to this tropical ecosystem was almost shocking – but absolutely incredible and extremely enjoyable."
It was the second time Rachel Durgin '18 of Winchendon, Mass., went on the trip.
"It would be an understatement to say that I love South Florida and its environment. The first time I went, I was a freshman, undecided on my major and completely lost. Going on the trip helped me decide on my path," Durgin said.
"I loved having the chance to walk through a cypress dome in the Everglades," she continued. "At many points we were waist deep in swamp water and stumbling over cypress roots that we could not see. This experience was completely out of my comfort zone; however, once you entered the cypress dome, it was like you entered another world."
Wading waist deep in muddy water, and not knowing where the alligators that could be lurking around her were, was "a bit horrifying, but so amazingly beautiful," said Amanda Doucette '18 of Clifton Park, N.Y. "That view is something I will never forget."
"This was not an average trip to Florida!" exclaimed Adam Galambos '18 of North Adams, Mass. "The ecosystems, which are unique to south Florida, are expansive, primitive and awe-inspiring. … Everyone we met – park rangers, biologists, historians, authors and local Floridians – matched our enthusiasm and curiosity regarding the uniqueness of the area.
"As an environmental studies student, I appreciated hearing about their educational background and career paths which led them to their current employment – a valuable opportunity for undergraduates."