Above, David Wilfore '11 hydroseeding a roadside. Below, with his nephew, participating in the "Trees for Tribs" program, which plants trees and shrubs along area waterways to help prevent soil erosion.
Environmental Studies Alumnus Teaches Sustainability to Farmers
09/13/17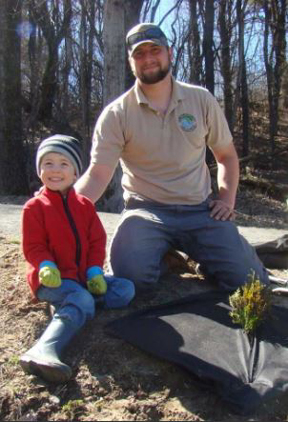 Environmental studies alumnus David Wilfore '11 grew up on a farm in the most northern county in New York State – Clinton County. Now, part of his life's work includes helping local farmers to become more open to sustainable farming techniques and methods as he teaches them about water quality and how to improve the health of their soil in their fields and orchards.
One of the hardest parts of his job is to gain the local farmers' confidence. "Most have been farming the same way for generations," Wilfore said. "When they get good result, that's a huge accomplishment; not just for me and for the county, but for the environment."
Wilfore is Clinton County's district technician for its soil and water district. He attributes his success with its farmers in part to the fact that he grew a plethora of vegetables on his own family's farm in that same area.
In addition to raising some cows and pigs, "We grew corn, tomatoes, potatoes and peppers. We did a lot of horseradish, and strawberries and raspberries, squash, pumpkins, rhubarb, and root vegetables like radishes and parsnips," he said.
At MCLA, he further honed his skills as the intern responsible for the campus's first community garden. With the help of members of the community and other students on campus, Wilfore grew organic vegetables, donating a large part of the bountiful harvest to a local food bank.
As Clinton County's district technician, Wilfore's duties are quite diverse. "I absolutely love my job. Not one day is typical. Our major focus is soil conservation and to improve water quality. That's our mission."
In addition to working with the farmers, Wilfore travels the county – which encompasses more than 1,100 square miles, including 80 square miles of water – to prevent soil erosion through a process called hydroseeding, which is spraying a mixture of wood fiber mulch, recycled paper and grass seeds on the banks that line the region's roadways. 
As the world becomes more and more environmentally conscious, Wilfore said environmental studies increasingly will be an extremely important degree to have. He recommends that others interested the major attend MCLA.
"All of the professors were terrific. Each had an individual style, but all the courses were interrelated, which I really liked," he explained. "You could go to one class about environmental methods, then you'd go to another about river systems and you'd make connections between the two."
The College, Wilfore said, provided him with a firm foundation which he followed up with one-the-job training. "Going to MCLA, there were a lot of classes that I didn't know helped me as much as they did – until I used here what I learned there."