Oscar Castro '18: Business Major, Student-Athlete, Leads 'Men of Color'
04/04/18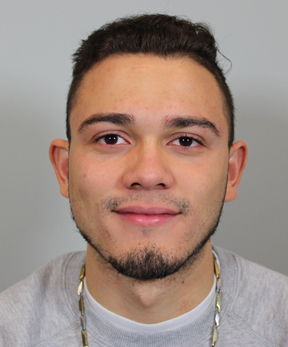 Before MCLA, Oscar Castro '18 of Middle Island, N.Y., had two main goals – graduate from college, and play soccer – a game he loves – and which he played throughout high school. Originally from Cartagena, Colombia, Castro studies international business and economics, with the ultimate goal of becoming a CEO one day, or of building his own business.
But, in addition to his business studies and life as a student-athlete, Castro found an unexpected passion – his leadership in a relatively new organization known as the Men of Color Initiative, which was created last fall by Michael Obasohan, assistant director of diversity programs and MCLA's Multicultural Education Center. Obasohan asked Castro to head up the new initiative.
The 10 students who joined the group meet for weekend study sessions, and help out with campus and community projects, among other activities. Castro particularly enjoys serving as a mentor to the group's first year students, and giving them advice on how to succeed in college.
"We are here for one another. We help each other out," he said. "Over the past seven months, I met some guys that I had never talked to before, and now our bond is so strong it feels like they are my brothers. I can count on them, and they can count on me."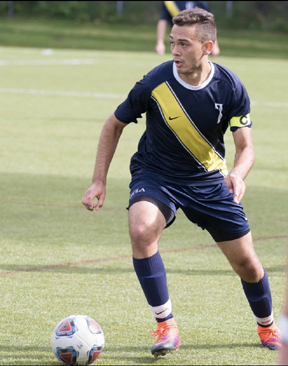 "I love that MCLA is such a diverse school," Castro continued. "I have made many friends throughout my career here, and I have met people from different cultures, backgrounds, and ethnicities," which include student-athletes on the men's soccer team from Italy, Portugal, Ghana, Sierra Leone, Zimbabwe, Cameroon, Jamaica, Colombia, and Lebanon. "It is amazing how rich in culture MCLA is, and I love that I attend a school with diversity."
Soccer coach Adam Hildabrand recruited Castro to play soccer for the Trailblazers. "When I came here on my visit, I felt really good about the school," Castro explained. "The people were so nice. At the end, what really made my decision was that MCLA is affordable."
He chose to major in business administration due to the flexibility of the field. "I could be an accountant or a manager supervisor. I can create and own my own business. I like business because I like to talk and negotiate. I see myself as a problem solver and I like to help people."
With all that Castro has learned over the last four years, he feels ready for what's next. That includes plans to work for several years before he returns to school to earn a master's degree.
According to Castro, since he arrived on campus in the fall of 2014, his professors consistently have been there for him. "They have helped me, and guided me along my path. Any questions I had about any course, or about the school in general, they have always answered. As faculty and as people, they are the best. When I graduate, I will be leaving this place well prepared."
He highly recommends MCLA to others: "At MCLA you will not be alone. The people here are so nice and welcoming. Here, you will be able to create friends of a lifetime, and further your education. MCLA can be like a second home for you, as long as you allow it to happen. Here you will be known by your name and for who you are. You won't be just a number."