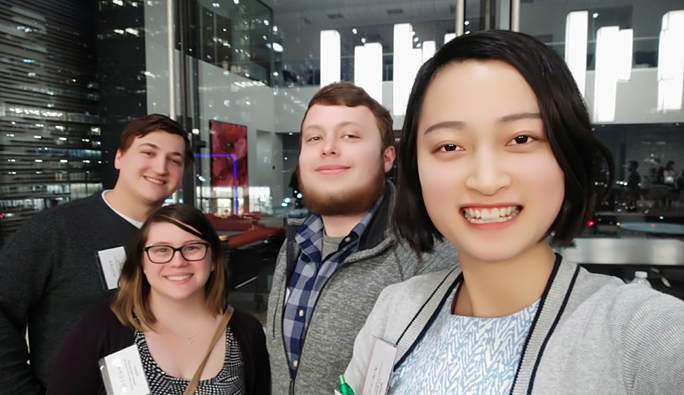 From left, Christopher Tetlow '18, Alison Pansecchi '19, Jared Grise '18 and Yuki Li '18, attended "The Next Step Workshop," hosted by PricewaterhouseCoopers in Boston, Mass., on March 28.
'So Far, I Love Taxes': Accounting Students Attend Major Industry Workshop
04/04/18
Before attending an accounting workshop hosted by PricewaterhouseCoopers – one of the largest accounting and attestation firms in the world – Jared Grise '18 of Pittsfield, Mass., wasn't interested in a career with a big firm. "I am now," he said.
Grise, a business administration major with a concentration in accounting and three other accounting students traveled to Boston last week to attend "The Next Step Workshop," organized by the Massachusetts Society for Certified Public Accountants (MSCPA), to which the students all belong.
At the workshop, they discussed job opportunities, career paths, and how to make the transition from student to accountant. The one-day event also included panel discussions and networking activities with other students and professional accountants.
MCLA exchange student Yuki Li '18 of Suzhou City, Anhui Province in China – also a business administration major with a concentration in accounting – said that the best part of the workshop was the communication with human resource professionals from PricewaterhouseCoopers. "We learned how to interview, about resumes and internships."
Li expects to work for a Certified Public Accounting firm, where she will concentrate in the auditing field, "because I am interested in numbers, and I am serious about the data accuracy. It is a growing industry since the taxations never get old," she explained.
Alison Pansecchi '19 of Adams, Mass., also studies business administration, with a concentration in accounting, and a minor in economics. She is also looking toward a career in tax accounting, and currently has an internship at a local accounting firm.
"So far, I love taxes," Pansecchi said. "For me, the best part about this workshop was learning what recruiters want to see in the resumes and applications they receive."
According to Tara Barboza, assistant professor of accounting, who accompanied her students on the trip, the workshop helped to build her students' confidence about their future careers and joining the workforce.
Before attending the workshop, "They all expressed nervousness about being done with their education, and moving on," Barboza explained. The workshop taught them that they have multiple opportunities, "and they can be as successful as they want to be."
Barboza said the students' general consensus on the most important take away from the experience was that they learned that they don't need to know everything when they graduate. "Employers expect students entering the field to need mentoring and further training. They also realized that the field is open, and that there are opportunities for every interest and lifestyle."
The workshop also provided a chance for Barboza and her students to bond.
"While we spend a lot of time together in class, this was an opportunity for me to interact with them in a new way – and for them to interact with each other outside the classroom," she said.