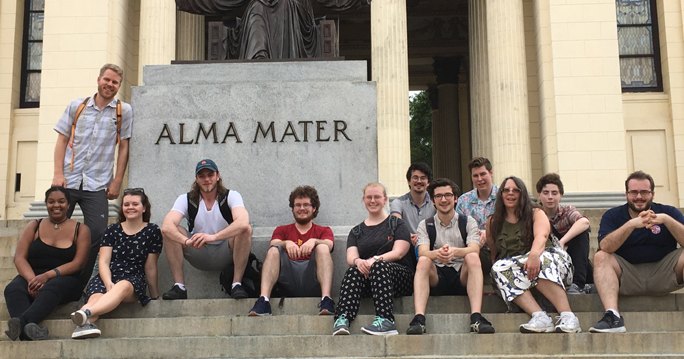 Above, (from left) Falyn Elhard '18, Dr. David Cupery, Victoria Muñoz '19, Charlie Weissfellner '18, Mike McAndrew '18, Cassie Lavoie '18, Sam Payne '18, Drew Weisse '18, Henry Ayles '18, Rose Borgnis '17, Eamon Hanlon '20 and Jake Vitali '20 at the University of Havana. Below, (top) Muñoz on a street in Havana, and (bottom) from left, Ayles, Weisse, and McAndrew at Malecon, Havana's famous seafront.
Students Enjoy Rare Opportunity for Cuban Immersion
04/18/18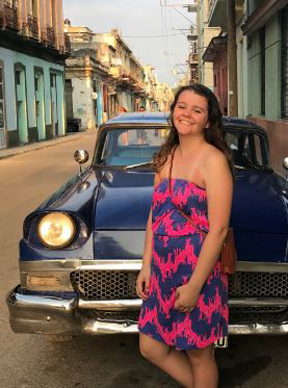 For the first time, 11 students traveled to Cuba over spring break. Led by Dr. David Cupery, assistant professor of political science, the travel course immersed them in the rich diversity and the controversies that surround this Caribbean island. The experience allowed for a deeper understanding of issues related to Cuban history, politics, culture, and society.
"Cuba and the United States have a complex history that intrigues me," said Victoria Muñoz '19 of Plymouth, Mass., who had wanted to visit the country for many years. "As a sociology and political science double major, I love learning about cultures, places, and people. Not many Americans have had the opportunity to go to Cuba. It was amazing!"
There, they traveled to cities including Trinidad, Cienfuegos, Santa Clara, and Playa Larga, Cuba's Bay of Pigs. In Havana, the students visited a middle school, where they became acquainted with the young students and staff. "The children were so curious and bright: they wanted to know about our experiences, and we all wanted to know about theirs," Muñoz said.
Instead of hotels, the students broke up into groups of two or three, and stayed with local families to gain a different, more personal perspective. "It was a great way to talk to Cuban people, eat authentic food, and have a glimpse into the 'real lives' of Cubans," Muñoz explained.
"I was also surprised about how open Cubans were about politics, and how welcoming they were to Americans," she said. "They were very patient with our constant questions and genuinely happy that we were in their country. These interactions made the experience even better."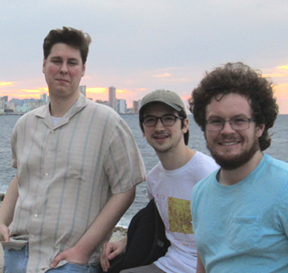 For sociology major Henry Ayles '18 of Plymouth, Mass., the biggest motivating factor for participating in the trip was his interest in Cold War history and U.S./Cuba relations.
"I really loved my time in Havana," Ayles said. "The various styles of architecture – 19th century and earlier Spanish styles, 20th century western Art Deco, Soviet Brutalism – were all mixed together in one place, painted with bright, beautiful colors.
"The locals were incredibly friendly; they would often approach us on the streets, ask us where we were from, and let us know of any local events/hidden gems around the city. We could walk everywhere! In any direction, just a few blocks away from where we stayed, we could find a number of amazing historic sites, museums, music venues, and great restaurants."
Ayles especially enjoyed attending lectures at the University of Havana, where he learned about U.S. and Cuban relations from the Cuban perspective.
"Through the simple act of talking to people and listening to their stories, I was able to assemble a fairly diverse representation of the Cuban people and discover the values and issues most important to them," Ayles explained. "In doing so, I was able to quickly wither away any lingering, preconceived ... assumptions," and see through the propagandized depictions of the Cuban people disseminated through their state-controlled media."
He added, "It was an invaluable experience that left me with the realization that, despite any political animosity between governments, and regardless of individual differences along political, social, cultural, racial, or ethnic lines, people are people – everywhere."