Environmental Studies Major Tackles Habitat Restoration in California
08/22/18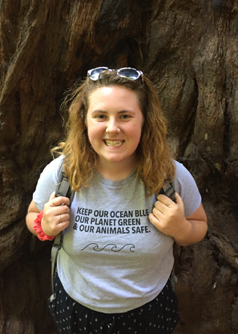 At the close of the spring semester, environmental studies major Katie Howe '20 of Malden, Mass., headed to Northern California to participate in a five-week internship sponsored by the San Lorenzo Valley Women's Club, in partnership with the San Lorenzo Valley Habitat Restoration Program.
How was it? "My experience in California was wonderful!" Howe said. Each morning, she worked to remove non-native plants such as Himalayan blackberry and English ivy to protect the watershed. Her actions ultimately resulted in saving an older grove of oak and redwood trees.  
"I was able to identify native plants of the Pacific Northwest, identify and effectively remove non-native invasive plants, and start the initial restoration process of a local community native plant demonstration garden," she explained.
Howe also volunteered with various small organizations in the region to conduct some networking. Her work in California included efforts with Watsonville's Wetlands Watch and Santa Cruz County Parks, and she worked closely with a local fish and wildlife biologist at Soquel Lagoon in Capitola, Calif., where she discovered a passion for working outdoors.
"Doing hands-on monitoring in the lagoon was exciting, fun, and informative beyond what any class could teach," Howe said. "I was intrigued to learn more about the process and expectations of environmental research. I also was exposed to the initial phase of a restoration project, and it interests me to see how the work will progress over time."
Other tasks immersed Howe in community events. She attended lectures and volunteered for a weekend at the Redwood Mountain Faire, which provides major funding to more than 30 local non-profit organizations. Throughout the experience, she was inspired by professionals and volunteers alike. As a result, Howe plans use the tools she gained to network, as she offers her time to important environmental work through volunteerism.