With Her Bachelor's Completed, Campus Police Sergeant Pursues M.Ed
08/29/18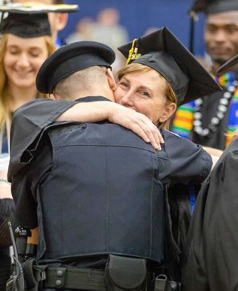 At her graduation this past May, Laura Lefebvre '17 took a chance and wrote "MCLA Sergeant Lefebvre" on the card to be read just prior to what she later described as an emotional walk across the Commencement stage. "I wasn't sure they would read it, but they did," she said.
"A cheer went up and I was blown away. That was my MCLA community cheering me on, and I can't tell you what that meant to me. All the well wishes from faculty, staff, and students that day were tremendous."
She said that she and the rest of the campus police officers make it a point to get to know MCLA students.
"I am proud of the connections I have made with the women's volleyball and soccer teams, as well as with students in the Women's Center and the LBGTQIA+ community," Lefebvre said. "Our officers are often invited to join special events put on by various clubs and organizations, and we table at community events whenever possible."
With her bachelor's degree in interdisciplinary studies and business now in hand, Lefebrve next will earn a Master of Education degree at MCLA.  She has taught throughout her career, including as a field training officer. She has worked with recruits at the Springfield, Vermont, and Massachusetts State Police academies, as well at the South Florida Institute of Criminal Justice.
"I enjoy teaching," she explained. "I thought it was high time I got the degree to back it up." 
The best part of being a non-traditional student, Lefebvre said, is that "MCLA is ready and willing to work with you personally. I am designing and customizing two of my classes in my master's program. They want you to succeed. MCLA is not so big that you are just a number."