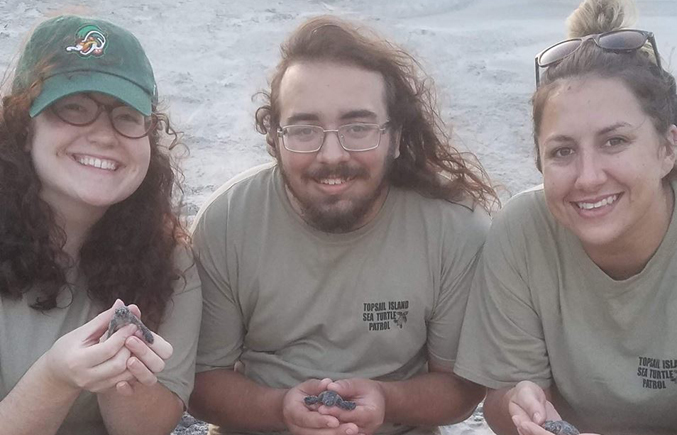 Above, Jordan Teixeira '18 (center) and two other interns hold newly hatched sea turtles.
A Summer with Sea Turtles
12/05/18
Jordan Teixeira '18 of Taunton, Mass., spent his summer as an intern at the Karen Beasley Sea Turtle Hospital in Surf City, N.C. There, the environmental studies major cared for wounded sea turtles, including those injured by fishing hooks and boats.
"My job was to assist these turtles in any way I could, and help provide for their needs as they recovered," Teixeira explained. He also led tours of the facility to educate the public about the threats sea turtles face, and walked the nearby beach to check on nesting turtles. "As the summer began to end, we would be responsible for watching when they hatched, to ensure there was no interference with the hatchlings."
According to Teixeira, "The highlight of the internship was definitely watching a sea turtle nest at 11:30 p.m., and then relocate the nest to a safer location, until 2 a.m. This was also one of the nests we got to see hatch. Seeing the entire process from nesting to hatching was a wonderful experience."
This semester, Teixeira is serving an internship with Dr. Elena Traister, a professor of environmental studies at MCLA, in collaboration with the Hoosic River Watershed Association. He and Traister are looking at possible side effects of climate change on the watershed and possible ways to mitigate these problems in the future.
"It incorporates a lot of historical research and mapping of the watershed, as well as assessing how the land has been developed and used," Teixeira explained. "This will lead to a draft of a climate adaptation plan for the watershed, to hopefully limit the degradation of the rivers due to climate change." 
Last year, Teixeira served as president of the campus's Wildlife Society, which introduces its members to the field of wildlife biology and conservation, and is a resource for those who are interested in related internships and careers.