This report recently brought Connecting Point's Brian Sullivan '12 to North Adams.
Alumnus Reports on Western Mass for WGBY-TV
12/26/18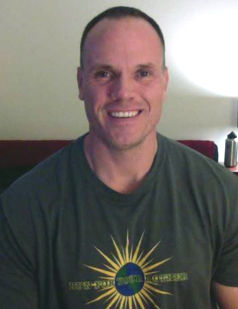 A recent story on reviving the Hoosic River in North Adams brought Brian Sullivan '12 full circle: He returned to the home of his alma mater for his job as a multimedia journalist for PBS television station WGBY's "Connecting Point," based in Springfield, Mass.
It was a long road back: Sullivan first arrived on campus – then North Adams State College – back in 1992 at age 17, but it wasn't until 2012 that he finished up the final credits he needed to graduate from MCLA. "It was a nice 20-year run with a big gap in between," he said.
Over the years, the English/communications major – who concentrated in broadcast media – worked for several radio outlets. He also did TV news work for Massachusetts community stations in Marlborough and Yarmouth before completing a five-year stint in Plymouth as a reporter, anchor, producer, videographer, and editor.  
At Connecting Point, "I do it all, from start to finish," Sullivan explained. He generates his own story ideas, arranges and shoots interviews and other footage, writes and voices the story scripts, and edits the entire package. The education he received at the College, he said, made him a much better writer.
Although he doesn't have a set beat (a journalistic term for a reporter's coverage area), many of Sullivan's stories tend to focus on the environment. "I prefer reporting on the things that may not have received sufficient daylight, but the community at large will hopefully appreciate and learn from," he said.
"My favorite part of what I do now is my interaction with the communities here in Western Massachusetts. During my college days, these towns were just signs along the highway to me," Sullivan added. Now, the region's residents provide him with countless stories to showcase.