An Alumna's Wild Career in Montana
12/05/18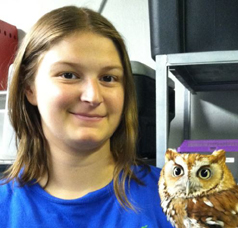 As an undergraduate student at MCLA, TaylorJae Taber '17 vowed to have a career that specialized in wildlife conservation and endangered species. Now she cares for seven grizzly bears, six gray wolves, an array of raptor species, and a colony of Uinta ground squirrels at the Grizzly & Wolf Discovery Center in West Yellowstone, Mont.
As a full-time animal keeper, Taber assists the Center in giving non-releasable wild animals a second chance as she educates the public on the importance of bear safety, coexistence, and how to avoid animal-human conflicts.
"We strive to use natural enrichment and habitat design that stimulates natural behaviors and simulates the animals' natural environments," Taber explained. "As a keeper, I am privileged to get within inches of these animals, through mesh, to clean and care for them. My favorite part of the job is to watch the animals interact and display natural behaviors in response to an enrichment item I created or gave to them."
At MCLA, Taber double majored in environmental studies and biology. She also studied for a semester at the University of Alaska-Fairbanks through the National Student Exchange Program, and volunteered at the animal department at the EcoTarium in Worcester, Mass., during the summer months. There, she learned to care for exotic animals such as chinchillas, scorpions, and macaws, and for regional wildlife like North American porcupine, skunks, river otters, red foxes, hawks, owls and bald eagles.
Eventually, Taber plans to attend graduate school with the aim of working with and studying bears and large carnivores in the wild. However, "I did not expect to fall in love with this occupation. I wanted an opportunity to work alongside bears, but I've discovered that all the animals have a personality, and it's very rewarding to care for them."