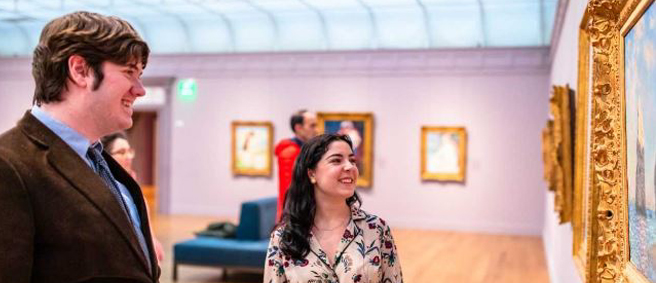 Above, from left, Luke O'Brien '19 and Danielle Prestogomo '19 enjoy a painting at The Clark. Photo by Tucker Bair/The Clark
MCLA Students Benefit from Internships at The Clark
12/12/18
Two MCLA students this semester are among the first to participate in the Rodgers Internship Program at the renowned Sterling and Francine Clark Art Institute in Williamstown, Mass.
The program began in 2007 when Williams College Class of '59 alumnus David Rodgers wanted to give back and provided funding for the paid internships, which allow college students to intern at The Clark and involve them beyond their experiences on campus.
According to Caedy Shultz-Loomis, membership director at The Clark, the students who initially benefited from this program all attended Williams College.
"This year, Dave agreed to expand the program to include MCLA students, which has already proven to be a huge success," Shultz-Loomis said. She added that, over the past decade, the interns from Williams – and now MCLA – have worked "in just about every area of the museum."
This semester, Luke O'Brien '19 of Swampscott, Mass, and Danielle Prestogomo '19 of Simsbury, Mass., are serving internships at The Clark, in the advancement and education departments, respectively.
One of Prestogomo's projects involves organizing a program that focuses on toddler-aged children. "Since I am both an arts management and early childhood education major, this internship links me to my areas of passion: education and the arts. The best part of this opportunity is that it made me realize that I was on the correct path," she said.
O'Brien, whose internship will continue next semester, is developing a special membership program for MCLA students that will allow them to earn more benefits as they visit The Clark.
"As a student at MCLA, I feel like I have a unique opportunity to explore some of the world's finest art, all within a few miles of each other, and the sheer diversity of the art on display is so exciting," he said. "I want to be able to share that feeling with my fellow students, and I'm so glad I get the chance to!"