Class President Lines Up Job Before Graduating
01/10/18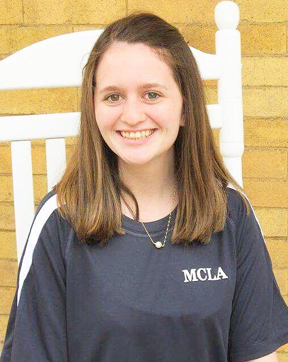 She won't graduate until May, but Shannon Esposito '18 of Cortland Manor, N.Y., already has her first job lined up.
With a major in English/communications, a concentration in public relations, and minors in business administration, marketing, and leadership, she will head to New York City for a position that incorporates all of these areas of study: she will work in marketing and communications for her father in his appliance store business.
From the start, Esposito knew she wanted to focus on communications. "Public relations is such a crucial part of the business world," she said. "If your communication with your consumers is not strong, your company will not have any ground to stand on." 
In addition to public relations, she wanted to incorporate some business skills and knowledge into her studies.
"That is when I declared my business administration and marketing minors. By interweaving the two areas of study, I gained some well-rounded communications and business knowledge," she explained. "The leadership minor did not come to my mind until my junior year. Everyone can use leadership skills, so I was excited to add that minor."
Through her studies in both departments, Esposito said she has gained valuable skills that make her stand out in a crowd. "My professors pushed me to be the very best, and to take my well-rounded liberal arts education and make it what I want it to be."
A leader on campus, Esposito serves as president of both the Student Activities Council (SAC) and the Class of 2018. Her activities are what make her a well-balanced student, she said.
Her involvement on campus started during her first year here, when she served as secretary for the class council. "I wanted to bring my class together and show how great the Class of 2018 is," she said. "Now, as the class president, I strive to maintain the same values that I had my freshman year." 
During her junior year, Esposito decided to lead SAC to help ensure proper funding for activities that so many students love. "Becoming president of SAC was the best decision I could have made," she said. "It has helped me to prepare for my life after college. At times things may not go your way, but by working with others you can make amazing things out of nothing. SAC is a blast, and has really improved my leadership and problem-solving skills."
When she first visited the campus, the student who led Esposito's tour made MCLA feel like home to her. Now, as a senior ambassador, she says the best parts of that job are the ambassadors she leads and the incoming students she meets.
"You get to know a lot of people just by giving tours," Esposito said. "It is always such a great feeling to have someone that you gave a tour to attend MCLA. Everyone has an MCLA story, and by working for Admissions, we get to be a part of so many of those stories."