It's Easy to Get Involved on Campus: One Psych Major's Story
01/10/18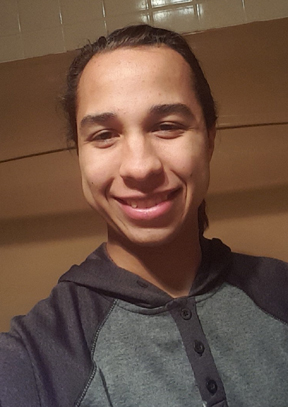 Up until the time he began to apply to various colleges, psychology major Theodore "TJ" Jones '20 of Brockton, Mass., had never heard of MCLA. In fact, it was his mother who decided – on a whim as they traveled to Albany, N.Y., one day – that they should stop by to take a look.
"We arrived in North Adams and found the campus," Jones explained. "My family and I have never been sticklers for guided tours, so we started wandering around the Science Center, and, slowly but surely, I fell in love with the place. I applied almost unconsciously, and when it was the first school to not only send me a response, but an acceptance, I knew where I belonged."
Jones has enjoyed his experiences with his psychology professors and with the courses he has taken, as well as the faculty who teach political science, which is his minor. "I have made both strong acquaintances and good friends in both departments," he said.
An active member of MCLA's Political Science Club, Jones describes it as an amazing group he has been fortunate to work with." With the purpose of promoting non-partisan, political efficacy on campus, the club brings in speakers to promote both formal and informal conversations, to encourage the campus community to vote and to become informed voters.         
Jones also is involved with the Student Activities Council (SAC), and belongs to Yorick, which presents plays written by William Shakespeare. "I have already been in two performances, and will be in my third this coming semester. And, for the first time I will be involved both on and off stage," he explained. "Yorick has improved my public speaking, and my improvisational and organizational skills."
He says the club also has helped him to refine his "people skills." In addition, through Yorick, Jones has learned how to direct potentially negative conversations into more positive exchanges.
Also on MCLA's cross country team, in less than a year and a half, Jones went from a high school student who could not complete a mile-long run without wheezing to an NCAA athlete with the ability to run nearly five consecutive nine-minute miles. "Cross country has really hammered home for me the lesson that I am stronger than I think," he said.
Although he majors in psychology, Jones's chosen field lies in the law and politics. "From the Constitution of the United States down to the swimming pool where I work, rules have surrounded me since I was born," he said. "I would like to have some say in how they are made, what they mean, and how they affect me."
After he graduates from MCLA, Jones plans to attend law school, with the goal of practicing law as a prosecutor. He also intends to do pro-bono work for a child advocacy firm. As a lawyer, he also intends to earn a doctorate in psychology, then move into politics with the goal of becoming the governor of Massachusetts, before he moves on to win the White House.
"The best part of my experience at MCLA is the people," Jones said, recalling the time that MCLA President James Birge brought milk and cookies to first-year students as they studied for final exams. "Every person, from every part of the campus, is intent on finding a way to make someone else's day easier. Everyone always does their best, and often will go out of their way to help you, even if they don't know who you are. You never know where you will make a friend."