Admissions Welcomes New Grads as New Counselors
07/25/18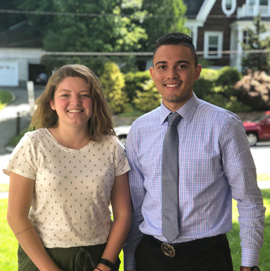 Kolumbia Cook '18 and Oscar Castro '18 have a lot in common. They not only are new graduates of MCLA's business administration program, they also recently were hired as the campus's newest Admissions counselors.
Cook, who graduated in three years with a management concentration and a leadership minor, will work with transfer students. After working as an Admissions Ambassador last summer, she stayed on at Admissions as an office assistant and an intern.
"My management and leadership classes helped me develop skills that are needed to work with perspective students every day. My professors were a great resource. They prepared me for the real world and were always there to support me," Cook said.  "I knew I wanted to continue to work in higher education. This position utilizes everything I learned ... and I'm very excited to work with prospective students." 
Castro, who played soccer for the Trailblazers, also is bilingual. He will attend college fairs and visit high schools to recruit students in New York City, Boston, Long Island, and southern New York.
"Being able to talk to soccer recruits and their families set the stage for me to apply for this position," said Castro. He expects his experience with soccer recruits will be particularly helpful as he travels to speak with prospective students and their families.
Because he became involved with a variety of activities his first year on campus, Castro is well familiar with the many opportunities students may take advantage of. "It is a wonderful chance to get to work for the school that gave me a great education, so now I want to help to encourage others to attend MCLA," he said.
Cook agreed. "I had an amazing three years here, and I know others will thrive at MCLA just as much as I did."