Area Business Leaders Enhance MBA Program
07/18/18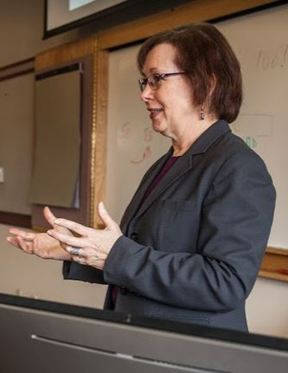 Across MCLA's Master of Business Administration (MBA) program and throughout the Business Department's undergraduate course offerings, it's commonplace for local business and non-profit organizations to work with our students. A recent presentation to Dr. Nancy Ovitsky's MBA students by Zogics CEO Paul LeBlanc is one example of how the local business community enriches our students' education.
"Creative and innovative approaches to problem-solving are alive and well in the Berkshires," said Ovitsky (right). "Seeing how applications of the theory and content from their coursework are succeeding in the real world helps students understand how their academic experience applies to their own careers, and the organizations for which they work."
For her Managing Creativity, Innovation, and Change course, Ovitsky aims to show how local business leaders encourage ideas and input from their employees, customers, and communities. "We visited Zogics as an example of a new, growing Berkshire organization that uses innovative thinking to expand their markets," she said.
At Zogics, which supplies large-scale facilities like gyms and hotels with cleaning supplies and other products, LeBlanc discussed his journey through the company's founding and growth. Lindsay Cornwell '19 said the experience was a great addition to the MBA program.
"I loved hearing how Zogics came to be. It was inspiring," Cornwell said. "Paul LeBlanc's presentation motivated me to try new things and helped me see how a great leader can make all the difference in the world."
Students also learned how other area business leaders – like David Curtis of 1Berkshire – influence the region. Curtis discussed the Berkshire Innovation Center's possible impacts on local organizations that are involved with research and product development, and Eric Kerns, co-founder of Bright Ideas Brewing and project manager of the new Tourists hotel project, discussed his unique approaches to hospitality in the northern Berkshires.
In addition, the class heard from North Adams Mayor Thomas Bernard, who filled them in on up-and-coming new businesses and new concepts he expects will impact the city.