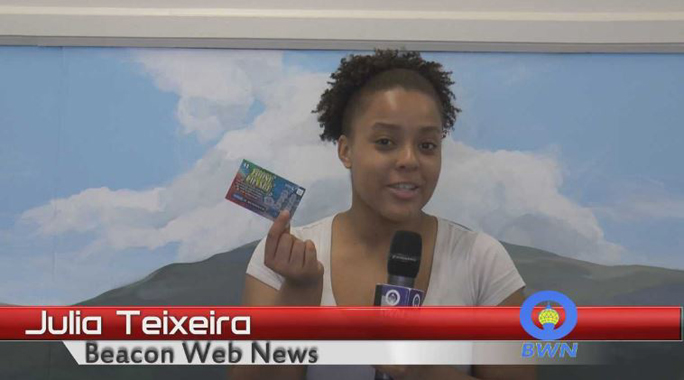 Above, Julia Teixeira '20 anchors an episode of Beacon Web News.
BWN Grows 400 Percent While Providing Valuable, Hands-on Experience
07/11/18
Julia Teixeira '20 of Boston, Mass, is starting out her junior year this fall with the confidence that she can succeed in the broadcast media field due to the many opportunities she has had at MCLA. The soon-to-be executive producer of Beacon Web News (BWN) brings a wide variety of experience to her new position, which she will begin in September.
Everything that broadcast students produce for BWN is written, filmed, and edited by the students, under the supervision of Shawn Mcintosh, an assistant professor of English/communications, and MCLA TV Studio Director Peter Gentile. Various roles change each week throughout the fall and spring semesters.
"Usually one person will anchor, another person will do the weather, and then the rest are assigned a story to be turned into a video package that is approximately 90 seconds to three minutes long," Teixeira said of BWN, which is filmed weekly during the school year.
In less than two years' time, BWN has grown by an astonishing 400 percent – both in student involvement and the audience that views the weekly episodes broadcast on campus and online.
"When the program first started it was just two students, Dan Wohler '17 and Sam Kniskern '18," Teixeira said. "Last semester we had 10 students that worked on BWN. Having more students means that we can cover more stories which, in turn, creates longer episodes. We've also focused more on covering local stories which also helps to generate an audience that expands outside of MCLA."
Students also produce major news stories for BWN in Spanish, a practice Teixeira expects will continue to grow thanks in part to the efforts of  news reporter Karen Canela '20 of New York, N.Y., who will study in Spain this fall to perfect her Spanish. She also recruits students who are interested in reporting Spanish segments for BWN, so that will continue after she graduates.
Teixeira believes that everyone has a unique story that should be told. "That is why I'm so passionate about this field." Beginning in the MCLA TV Studio as a first-year student, she worked her way up to where she is today. "I started with coming to a taping. The next semester I helped out with the actual productions every Wednesday. Then, I started producing my own packages, and now I find myself serving as the executive producer."
She chose MCLA for its intimate campus and the personalized attention its professors provide to each individual student. "But, what set MCLA apart from other [similar] schools ... was the area of North Adams. It is so drastically different from the city, and it's refreshing to wake up and see the mountains in the background."
However, "The best part of MCLA is the feeling of a tight knit community. The people within my concentration are like family," Teixeira explained. "I also love that there are so many opportunities for every single major provided on campus. Students are able jump right into their respective fields and mimic real life experiences."
Episodes of BWN may be viewed at www.youtube.com/user/mclabeacon or www.theonlinebeacon.com.