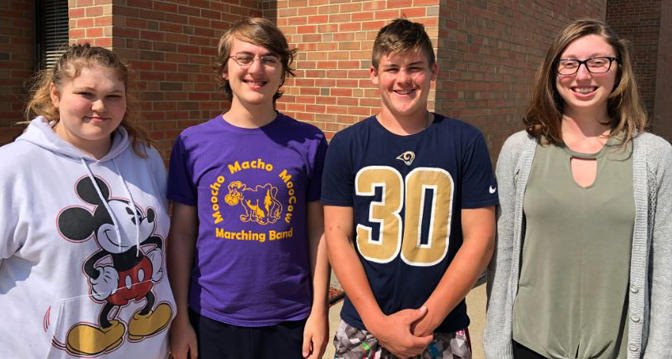 From left, Amber Follett, Kelby Lesage, Casey Meczywor, and Laura Corsi '22.
High School Seniors, Recent Grads Get an Early Start to College
07/18/18
MCLA and Berkshire Community College (BCC) are giving 15 students a preview into what college life will be like as they serve a summer internship and earn college credits at no cost, through a Commonwealth Dual Enrollment program in partnership with the Massachusetts Department of Higher Education.
This intensive college readiness program, Summer Academy, draws high school seniors and recently graduated high school students from throughout Berkshire County. For Kelby Lesage, a senior at Drury High School in North Adams, Mass., "It's my first work experience, ever."
Taking classes in English and math is giving Lesage a jump start on his college career, which he hopes will boost his acceptance success when he applies to colleges this year.
"It's been a lot of work," said Casey Meczywor, a senior at Hoosac Valley High School in Cheshire, Mass. "I want to work harder at high school to prepare me for college. This experience is really showing me how hard I will have to work to succeed in college. It's difficult, but it's helping me to improve."
Laura Corsi '22 will attend MCLA this fall. The psychology major aims to graduate at least one semester early. The program also is helping her to manage her time better. Amber Follett, a senior at Mt. Everett High School in Sheffield, Mass., agrees that the help with time management is a plus.
"This program definitely is teaching me how to manage my time, to take the initiative to do things on my own, and to know what to do when I'm in college," Follett said. "It's an early bridge to greater independence." As she stretches her comfort zone in anticipation for what's next, "It's definitely something that inspires me to try something hard as I consider my options for college."