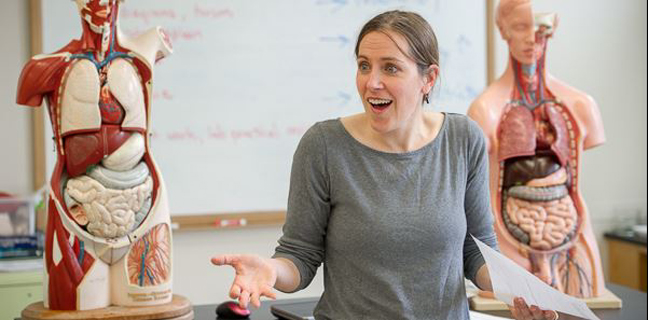 Above, Dr. Anne Goodwin teaches a biology class. Below (from top), Dr. Erin Kiley and Dr. Nicole Porther. Photo of Dr. Erin Kiley by John Bandler.
MCLA Profs Team up to Advance STEM Teaching Strategies
07/04/18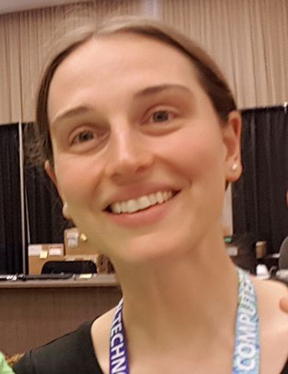 The STEM (Science, Technology, Engineering and Math) fields offer an interdisciplinary approach to thinking and problem solving that is a hallmark of a liberal arts education. This approach will benefit students who enroll in a health-focused section of the MATH 232 "Introduction to Statistics" course, a recent collaborative project of three faculty members who teach biology, math, and community health education.
Dr. Anne Goodwin (biology), Dr. Erin Kiley (math), and Dr. Nicole Porther (community health education) recently traveled to the STEM Pedagogy Institute in Durham, N.H., where they prepared a proposal to develop the specialized section of Kiley's existing math course, and discussed how they might best implement the  new curriculum this fall.
The section is intended for first-year students in MCLA's health sciences programs.
"It makes most sense to use specific examples from biology and the health sciences, rather than examples from a broader selection of disciplines, as I typically do in that course," Kiley explained. "We expect the bio/health majors in this dedicated bio/health section to benefit from exposure to examples in their field, and it's our hope that this will help them to better retrieve that knowledge of statistics when it comes time for them to take in-major courses that require it."
"We received feedback from colleagues at other institutions and from the presenters at the previous day's 'Fostering Academic Success in STEM' conference, and we provided feedback and insights from our own experiences to other teams" with regard to their plans, Goodwin said.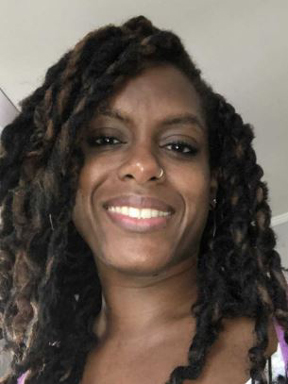 Funded by the Davis Educational Foundation, the conference focused on describing evidence-based teaching strategies that can be used in STEM classes to improve student learning.  
Some who attended the "Fostering Academic Success in STEM" conference – which was held at the University of New Hampshire, also in Durham – were invited to participate at the STEM Pedagogy Institute the following day. There, selected institutions worked with the institute's staff to develop an instructional plan for science courses.
Over the summer, Goodwin plans to read many of the resources provided through the conference and workshop, "And I am already making plans to implement new strategies in my courses and to share relevant resources with my colleagues in the Biology Department," she said.
Enthusiastic to apply what they learned, Goodwin, Kiley, and Porther want to continue the discussions they had at the University of New Hampshire at MCLA: They extended an invitation to one of the conference speakers, Pooja K. Agarwal, Ph.D, an expert in the field of cognitive science, to speak to the campus community this fall, as part of STEM Week in October.
The combination of effective classroom pedagogy and the College's Feigenbaum Center for Science and Innovation – which features comfortable spaces and current equipment for laboratory exercises and student research – allows faculty to prepare students well for STEM careers, Goodwin said.