Professors Help Soc Major Expand on His Dreams
07/11/18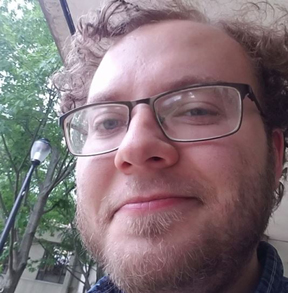 When Michael Masley Hannett '19 of Albany, N.Y., first arrived at MCLA, he planned to major in English with a focus on creative writing. Although his original intention to become a published author remains, he since has made a few changes. In addition to professional writing and a minor in music, he recently expanded his studies to include a major in sociology.
Hannett never thought he would be a sociology student until one of his professors noticed that he did well in her class, and suggested that he add sociology as a major.
"I was interested, but never knew I would have the time until this summer, when I'm taking classes on campus and have an internship!" Hannett said.
As part of his internship at MCLA's Adult Basic Education program, he tutors students in writing skills they may need to successfully pass the high school equivalency exam.
A tuba player since the fifth grade, Hannett performs with MCLA's Wind Ensemble. "I never knew just how little music I knew until I joined the minor," he said. "It's amazing how much theory goes into the practice, and the skills I've gained through it will last me a lifetime."
His most recent musical pursuit comes in the form of English Gregorian chants. Over spring break, he visited England as part of a travel study course, and was invited by a London expert to visit his church and see a Gregorian chant choir in action. "It's surprisingly simple, yet beautiful at the same time."
Similar to his decision to study sociology, it was an English professor who noticed Hannett's abilities in her "Age of Milton" class, and asked him if he would like to join the travel course.
"I wouldn't be where I am without the professors that encouraged me," Hannett said. "My academic experience has been great at MCLA," he continued. "Many of my professors have a way of challenging their students that really engages them. A lot of the faculty are open to questions and feedback, and many of them are willing and able to communicate outside of the classroom."
Hannett also attributes the presentations he offered at MCLA's Undergraduate Research Conference (URC) – both this year and in 2017 – to the help and attention he received from another professor who has watched him grow as a student "since I was a freshman, and who motivated me and engaged me in ways I never thought I would be while in college."
"The multiple years spent participating in the URC have really contributed to my love of research and understanding topics I'm passionate about," Hannett said. "Without a doubt, the professors here are great at inspiring passion and implementing it in a way not always expected.
"I never thought I would be doing research on video games, learning disabilities, or even Gregorian chants, but now I can say I've done all three!" he exclaimed. "The learning environment here is just amazing.
"There aren't many schools that care as much as MCLA," he added.  "MCLA really is the place to flourish and to grow, and I've done far more here than I ever expected to do, ever."