Alumna Helps Co-workers Earn their Degrees
06/06/18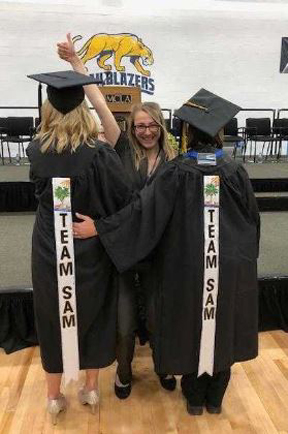 When Laura Lefebvre '17 and Sierra Holland '18 walked across the Commencement stage last month to accept their diplomas they had much more in common than that shared moment. In addition to being co-workers, they had another colleague cheering them on – a third alumna who helped to get them started on their educational journeys.
Both on staff at MCLA's Department of Public Safety – Lefebvre is a campus police sergeant and Holland is a dispatcher – they were encouraged by Samantha Lincoln '15, MBA '17 (pictured right, center, with Holland and Lefebvre), who works on campus as the assistant for Bowman Hall Departments and Title III Grants.
Lefebvre met Lincoln when Lincoln was a student, and working as a facilities maintainer. She enthusiastically told Lefevre about the travel studies trip to Japan she had returned from. "That was when I mentioned that I probably should see what it would take to get my degree," Lefebvre said. "After I said that she didn't let up, every time I saw her it was, 'Did you sign up?'"
Finally, Lefebvre confessed that some uncertainties with regard to the application process were holding her back. At that point, Lincoln took over. She sat Lefebvre down and showed her what to do. "She actually signed me up for my first three classes, and that was it," Lefebvre said.
"Everyone deserves an education," Lincoln said, recalling the fears that she once felt at the prospect of completing 120 credits before she could graduate. "I would ask both Sierra and Laura questions about themselves, the topics they were interested in, and if they were more of a 'test taker' or a 'paper writer.' I wanted to make sure they were taking classes that were right for them to boost their confidence and set them up for success. I believe we have something for everyone here at MCLA: it's all about creating the right path for you."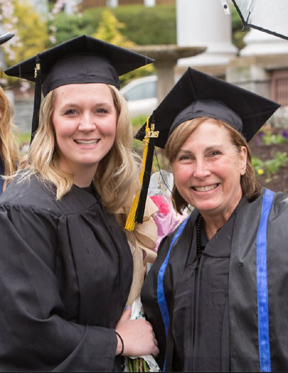 According to Holland, Lincoln not only inspired and encouraged her to complete her degree, she also stayed one step ahead of her to make sure she was taking the classes she both needed and enjoyed. "Sam is such an asset to this college," Holland said. "She has directed many other students – not just employees – to continue their education and make sure they are doing well.
"There simply aren't enough words to say 'thank you' to her," Holland continued. She plans to encourage others the way Lincoln supported and encouraged her. "Laura and I are extremely grateful for the guidance, dedication, and support Sam has given us throughout this endeavor."
Both Holland and Lefebvre (pictured left and right, respectively, in photo at right) earned their degrees in interdisciplinary studies. Holland is continuing her studies through an online criminal justice degree program, and Lefebvre will begin to pursue her Master of Education degree at MCLA this fall.
"Seeing the both of them graduate earlier this month felt amazing," Lincoln said. "We all have different strong points, and this was mine, and they also have helped me work through some of my weaknesses. ... Past and future graduates are a part of my story. I encourage anyone who needs assistance navigating their college career to stop by my office in Bowman 219. I am always happy to help!"