English Prof's Upcoming Book Examines Law, Sexuality & the Color Line in Literature
06/20/18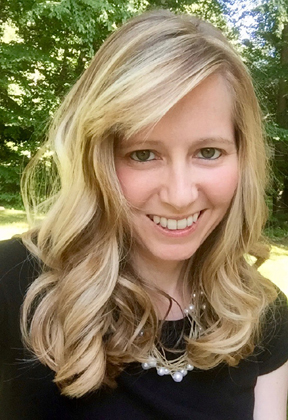 As MCLA increasingly becomes well-known for undergraduate research, our faculty pursue a wide variety of their own scholarly pursuits. Dr. Jenna Sciuto, assistant professor of English, is no exception. As the campus's associate chair of undergraduate research, she was a key player in this year's MCLA Undergraduate Research Conference, which broke participation records last April. In addition, she's writing a book based on in-depth research she began for her doctoral dissertation at Boston's Northeastern University.
Her book, Policing Intimacy: Law, Sexuality, and the Color Line in Twentieth-Century Hemispheric American Literature, is under contract with the University Press of Mississippi. The upcoming publication examines representations of identity, colonial inheritance, and interracial relationships in literature about the United States South, Haiti, and Dominican Republic.
Sciuto analyzes literary depictions of sexual policing of the color line across multiple spaces with distinct colonial histories: Mississippi through William Faulkner's work, Louisiana through Ernest Gaines's novels, Haiti through the work of Marie Vieux-Chauvet and Edwidge Danticat, and the Dominican Republic in writing by Danticat, Julia Alvarez, Junot Diaz, and Nelly Rosario. Through connecting these disparate spaces, she argues that the policing of sexuality was used to ensure the continuity of the status quo across varying societies in the hemispheric South.
"I am interested in this topic in part due to the interdisciplinary nature of the work. Policing Intimacy is a work of literary analysis that draws heavily on law, history, and the archive to add layers of complexity," she explained. "In addition to early slave laws from across the hemisphere, I examine the various iterations of anti-miscegenation laws specific to Mississippi and Louisiana, as well as relevant Supreme Court decisions, such as the landmark civil rights case Loving v. Virginia. I also turn to the archives to extend my understanding of this literature and how it is situated historically."
Sciuto's research also led her to explore how differences between early drafts of Gaines's The Autobiography of Miss Jane Pittman alter one's understanding of the novel's depiction of plantation histories beyond Louisiana.
Last fall, Sciuto taught a new class related to this research, titled "Modern and Contemporary Black Literatures of the Americas," which examined 20th- and 21st-century prose by writers of African descent in the Americas through a hemispheric lens. In this course, MCLA students analyzed how writers employ various formal techniques to represent diverse experiences and distinct histories.
Once Policing Intimacy is completed, Sciuto is considering work on a second project, which would draw on the 20th centure history of her Japanese American family members. "I envision the project as combining family stories and personal accounts with archival material to focus on specific historical examples like the internment camps during World War II against the backdrop of the broader Japanese American experience throughout the century," she said.
For her work on Policing Intimacy, Sciuto received a 2018-2019 American Association of University Women (AAUW) Fellowship Publication Grant. AAUW American Fellowships support women scholars on diverse projects, from dissertations to research leave and publications.