Above, an excerpt from the documentary film Ryan Scutt '09 created. Below, Scutt with some blueberry muffins he made for a 'Cooking with Scuttle' segment, like those he baked to raise money for the hurricane recovery effort. Bottom, Scutt poses (second from right, crouching) with the volunteers who rebuilt a home in Las Marías, Puerto Rico.
Film Grad Aids Puerto Rico: 'How Can I Help?'
06/27/18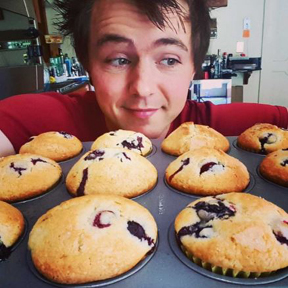 Although he has served as the educational and studio production coordinator at Catamount Access TV in Bennington, Vt., since 2013 – during which time he has produced thousands of videos – this spring marked the first time that Ryan Scutt '09 produced a feature-length project. "Rebuilding Puerto Rico" recounts the story of 24 volunteers who rebuilt homes in Puerto Rico for some of the survivors of Hurricane Maria, whose houses were badly damaged in the storm.
Scutt had seen coverage of the storm's aftermath, but "very few personal, first-person accounts of Hurricane Maria have been widely told on video," he said. "I hadn't heard much from those that have experienced first-hand the life-changing and disastrous event that 3.5 million United States citizens endured. Their stories need to be heard."
He worked for more than 100 hours during the one-week trip, then spent 200 to 300 hours involved in editing, as he crafted the story, frame by frame, to document the efforts of several Bennington-area Habitat for Humanity volunteers, along with others from the Southwest Vermont Career Development Center (CDC) – five students and two CDC professionals.
Scutt, who previously was involved with reality television shows, found the experience similar to "Building Wild," a National Geographic show he worked on. In Puerto Rico, heavy rains and a shortage of materials delayed the work, but he documented as much as possible.
"I even purchased a drone, which arrived just one day before I left Vermont, to get aerial footage of the rebuilding process," Scutt explained. "We kept facing obstacles and raced against the clock to complete an incredible challenging building project in difficult conditions.
He is using the film to raise money to help Puerto Rico rebuild: all funds go toward that effort. "We funded much of the projects ourselves, and continue to do so for additional rebuilding projects," he said. "This piece answers the commonly asked question, 'How can I help?'"
At the premiere screening of the film, Scutt had hoped that at least 100 people would show up, but nearly 300 were in attendance, and the group raised more than $2,400 for the cause.
While the official documentary has yet to be published, it will air on CAT-TV later this year, on channels 15, 16 and 17 on cable, in Bennington. The film also will be posted on YouTube, and possibly Amazon Prime, Scutt explained. "But, in the meantime, there will be additional screenings, which I'll announce on Facebook." To learn more, view the short video, above.
Scutt, who majored in English/communications with a concentration in film studies, minored in Spanish at MCLA.  Despite not having consistently practiced his Spanish for a number of years, "I translated several exchanges, and was able to conduct video interviews in Spanish," he said.
According to Scutt, MCLA offered everything he was looking for, including personal attention from professors and a curriculum that allows students to explore their interests and get a strong education.
"Choosing a college was very difficult for me, as I wanted not only to expand my experience in video production and filmmaking, but to produce TV and videos hands-on, from day one. Many schools I looked at only allowed sophomores or juniors to spend hands-on time in production, and I wasn't willing to wait that long. At MCLA, I was able to produce videos right away."