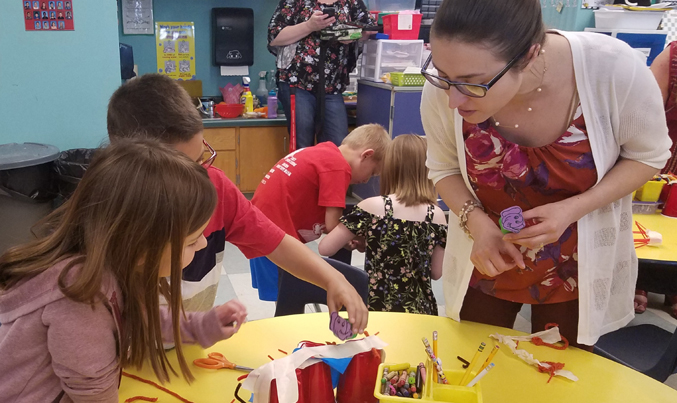 Above, STEAM Coach Dana Schildkraut helps Adams, Mass., Kindergarten students at Hoosac Valley Elementary School with a learning activity. Below, Schildkraut (at far left) and Rachel Jellinek of Reflection Films (in foreground) prepare for an interview for an upcoming film that will document the progress of the Improving Teacher Quality (ITQ) program.
Gaining STEAM: Teacher Quality Program Empowers Educators
06/13/18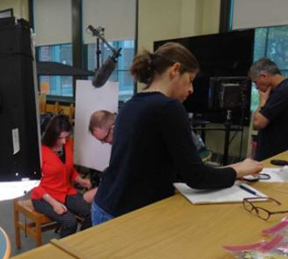 After a remarkable five-year run that included two extensions and paved the way for additional education projects such as the Berkshire Regional Arts Integration Network project (BRAINWorks), the Berkshire Early Learning Lab Improving Teacher Quality (ITQ) program will conclude at the end of September.
Earlier this month, a UMASS-Boston film crew was at Hoosac Valley Elementary School in Adams, Mass., to document the program's run in the Berkshires. The film will serve as a digital toolkit of sorts, enabling others to better understand how a successful project like ITQ may be recreated and implemented, said Dana Schildkraut, the ITQ and BRAINWorks grant programs' STEAM (Science, Technology, Engineering, Arts and Math) coach and content coordinator.
ITQ began in October 2013 as a three-year project. Since then, Schildkraut has collaborated with preschool through second grade teachers in the region as she models lessons in their classrooms and provides support as they implement STEAM curriculum. Over these past five years, participants have come to view MCLA as a "hub" for their continued education in the field.
"The ITQ program provides high quality, professional development and in-service and graduate credits to local educators," Schildkraut explained. "Teachers can continue their education in the field knowing that they are receiving relevant and reputable training and information."
Although there are several ITQ programs at other state universities, MCLA's ITQ program is unique because of the peer-to-peer learning model that is in place, Schildkraut explained.
"As the STEAM Coach, I have looked at the program with an 'I do, we do, you do' approach," Schildkraut said. "In the beginning, I was spending a lot of time modeling STEAM lessons and showing participating educators what successful STEAM lessons look like in the classroom."
Later, "We worked toward a more collaborative model where we could co-plan, co-teach, and better use teachers' existing curricula," she added. "Now, in the 'you do' phase 'Teacher Leaders' are taking leadership roles and serving as the go to STEAM people in their schools to assist their peers with meaningful feedback and the continuation of rich STEAM activities."
Schildkraut continued, "Because participating ITQ teachers reported they are benefiting from collaborative learning, the rich professional development opportunities, and understanding how to use the arts to drive learning in other content areas, there was a desire to see this type of program continue."
BRAINWorks, which is building on ITQ's foundation, is helping to train teachers to provide instruction in music, dance, drama, media arts, and visual arts for students in Kindergarten through 12th grade. This new project of North Adams Public Schools, along with MCLA's arts management program and the Berkshire Compact, was announced in October 2017.
Once the ITQ film is released in early fall, it will be available to view on the Massachusetts Department of Higher Education website, and serve as a resource for superintendents and administrators, schools committees, policy makers, educators – "Anyone who is interested in understanding how and why a program which connects the community to a higher education partner is successful," Schildkraut said.
MCLA is the lead partner for the Berkshire Early Learning Lab ITQ program, which includes the North Adams, Adams-Cheshire Regional and Northern Berkshire School Union school districts, Pittsfield Public Schools, Child Care of the Berkshires, Berkshire Head Start, the Berkshire Museum, the Clark Art Institute and the Massachusetts Museum of Contemporary Art (MASS MoCA).