A Liberal Arts Approach to Teaching: Siobhan Greene '17
03/07/18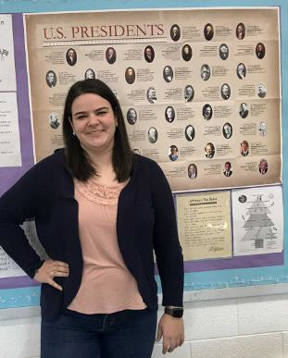 Education and history major Siobhan Greene '17 quickly found her perfect job– she's a high school teacher on the Fort Berthold Indian Reservation in North Dakota. At Mandaree High School, she is discovering more about education, culture, and herself, as she puts what she learned at MCLA to use in her classroom each and every day.
Greene applied for teaching jobs all across the country, from Alaska to Florida, and saw a posting for a social studies teacher at Mandaree High School. "I looked into the town and community, and it quickly became one of my top choices. When I was offered the job, I immediately accepted it," she said.
"I am learning about the Three Affiliated Tribes – Mandan, Hidatsa, and Arikira – which call Fort Berthold their home," Greene said. "My students have shared a lot of their culture with me, including pow wow dancing. It is extremely rewarding to have them open up to me."
She credits her willingness to work in an unfamiliar situation, far from home, to experiences she had in Ireland with an MCLA travel study course, as well as her attendance at three Model United Nations conferences in Toronto, Canada. Those trips, she said, opened her up to the idea of leaving the state to begin her career. "I pushed myself, and did things that terrified me, but those experiences reminded me of all the possibilities beyond my own backyard." 
One of the biggest challenges she faces is the small size of the high school where she teaches: the student body is comprised of just 60 students. This means there is only one teacher for each subject.
"I have to push myself beyond my degree and rely on my liberal arts education as I teach United States history, civics, criminal justice, consumer education, psychology, and sociology," Greene said. "The broad base of the core curriculum at MCLA has greatly helped me with my wide range of classes."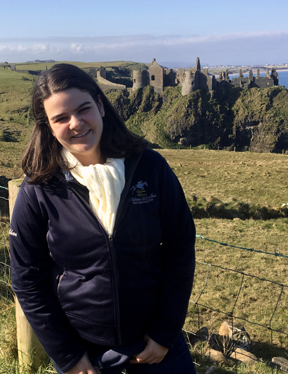 Originally, Greene did not consider MCLA when looking for a college. However, her mother brought her to campus to take a look.
"Once I was on that first tour, I knew that MCLA was where I wanted to be," she said. "MCLA offered the majors I wanted. It's small, and I knew I would form connections with my professors. It also was affordable, and that was a major benefit."
She also was involved with a number of organizations on campus, including the Student Government Association (SGA) and the Political Science Club.
"During my time in SGA and the Political Science Club, I grew as a leader and gained confidence," she said. "I encourage my students to find ways to take leadership roles in their lives. I also encourage them to speak up if they see an issue in the school because their voices matter."
Greene also benefitted from her participation with STICS (Student Teacher In-Classroom Support), at nearby Drury High School, where she formed connections with the teachers there, who became her mentors as she completed her field placements and student teaching semester.
"Those teachers and their continued guidance have inspired me, and made me the teacher I am today," she said. Greene "absolutely" recommends MCLA to others. "For anyone looking for a small, affordable college that will prepare them for anything later in life, MCLA is a perfect choice."