Plotting a Path to Graduation: New Software makes it Easier
03/07/18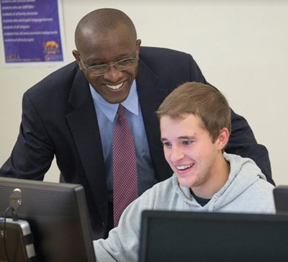 MCLA recently introduced remarkable new software that makes it easier than ever before for students to plan their path to graduation. Degree Works provides an easy-to-read, ongoing review that shows what courses students have completed, and what's up next. This "degree audit" software is customized to each individual's needs, and informs them of every available option to fulfill the requirements that remain ahead, so that they may choose what's best for them.
"Since decisions like choosing or changing a major have an important impact on financial aid, or how long a student spends in getting a degree, Degree Works includes a 'What If' feature, letting students 'test-drive' different hypothetical situations to see the long-term effects, based on their actual current status," explained Monica Joslin, dean of academic affairs. "This helps students make the most fully informed decisions about their choice of program."

Degree Works also makes course registration easier by showing real-time updates regarding availability, and when students are signing up for the next semester's classes. The "Look Ahead" feature shows exactly how each course a student is considering would fit into their overall progress toward the degree, helping to ensure they are choosing courses strategically.

According to Lisa Milanesi, assistant registrar and coordinator of academic schedules and curriculum, the interactive nature of Degree Works allows students to click on live data that indicates if and when a course will be offered in the next semester, and if seats are left.
"Degree Works also allows a student to project how a potential change in major would affect their progress toward graduation. It places their current course history into a new audit with the proposed new major," Milanesi explained.
She continued, "In addition, GPA calculators help both students and advisers project a student's future GPA.  This is particularly useful for student athletes who need to maintain a certain GPA, or for students who intend to apply to grad school, which may require a particular GPA."
This semester, potential transfer students will cease to receive a "transfer credit analysis." Instead, they will get a degree audit that shows the courses required for their programs, as well how each of their transfer courses will be applied to their specific program. 
Last fall, Milanesi, along with Gerol Petruzella, associate director of academic technology, rolled out training to all faculty, and offered one-on-one sessions to professors and administrators. Petruzella developed eight tutorial videos on the software's features for faculty, advisors, and staff, and he continues to offer additional training.
"The more well-informed an advisor is about a student's situation, the better positioned they are to give meaningful, effective advice and support to that student," Petruzella said. "Degree Works puts a student's whole academic record at an advisor's fingertips in a single, easy-to-read format. It gives the advisor a sense of the student's aims, progress, and trajectory, to help make sure the student's choices are best focused on their specific path to success."
Funding for Degree Works was acquired through a federal Title III grant aimed at supporting student success and retention. For more information about Degree Works, go to http://www.mcla.edu/About_MCLA/admin/campus-connection/academic-technology.